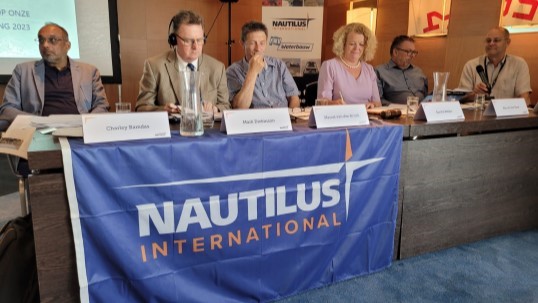 Hans Walthie describes fascinating discussions on the theme of Toekomst Nederland Scheepvaartland ('the future of the Netherlands as a shipping country'), held at a Nautilus Symposium in June
• 'How do we make the maritime industry more attractive to young people?'
• 'Why are so many seafarers leaving the industry and how do we ensure they continue to sail?'
• 'How do we attract talented people and offer them prospects for the future?'
• 'Are the work culture, benefits and labour relations in the industry modern and attractive?'
• 'In short, how do we ensure that the Netherlands remains a shipping country?'
These questions were the focus of the Nautilus Symposium, which took place on 20 June at the Delta Hotel, Vlaardingen. Numerous fascinating presentations by young people, live and online, also resulted in lively discussion among those present at the well-attended event, including members, shipowners, maritime colleges and other interested parties.
'Dredging is very cool'
The Symposium opened with a delightful video in which young Van Oord operator Dennis van de Klooster stated that 'dredging here is very cool on the cutter suction dredger Artemis'.
'It's my first job after graduating from the MIWB on Terschelling. I like everything: the work, dealing with the crew, the lifestyle, the 'three on, three off' sailing schedule... and I also make myself useful with this work!' he said.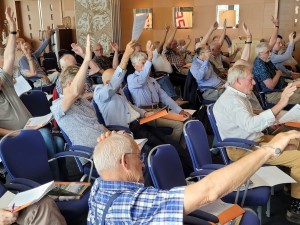 Subsequently, after Nautilus vice-chairman Sascha Meijer had warmly welcomed those present, two young Hogeschool van Amsterdam students – Cor Kortekaas and Finette Lamphen – had the floor.
Both indicated that for many young people, being away at sea for a long time was becoming a drawback, and that online connection to family and friends simply must be available or they will drop out.
'Good recreational opportunities are also important,' said Ms Kortekaas. 'During my internship it was quite cramped onboard, with no recreational opportunities. Young people want that too.'
They also stated that many young people are increasingly 'calling it quits' after five or six years at sea.
Pregnancy taboo
Then there was an online presentation from Carolien Nonnekes, ocean technology lecturer at MIBW, who explained why after a 'super fun time at Allseas' she had opted for a shoreside job as a lecturer.
'I thought about it for a long time, but finally decided on it,' Ms Nonnekes said. 'What played a part was that at a certain point you also want children, and that is difficult to discuss onboard.'
Sascha Meijer agreed: 'At Nautilus, we hear the same thing from other female seafarers. You could call it a taboo.'
If the knowledge, experience and skills available here in the broad maritime cluster slowly dry up, what does that mean for the Netherlands as a distribution country?
'Sea legs in the Classroom' coordinator Caro Cordes pleaded for 'the development of a kind of life-stage contract, especially for women, so that you can be away from home for less time or go back onboard after having children.'
KVNR director Annet Koster thought this was a good idea, and also stated that since the cadet intake is declining and there are so many opportunities available ashore, maritime must be made more attractive.
Attracting new talent
Attendees were then treated to a presentation by Liana Engibarjan, who promotes inland shipping as an attractive sector.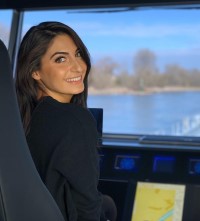 Liana started her career 15 years ago, on a tanker 'with an alcoholic captain, a drug-using mate and a seafarer who had just come out of prison'. Today she is an experienced skipper, entrepreneur, influencer and spokesperson on matters maritime at major TV stations. She regularly gives advice on how to encourage more young people to work in inland shipping.
Liana indicated that leisure facilities onboard and employee involvement in company decision-making are very important to this, and reiterated that a world without the internet and social media is no longer possible for young people – employers must be aware of this, and can even use it as a strength by allowing young employees to bring the company image and social presence up to date.
Enthusiastic crew
After this Christel van Lent, manager crew, and Harold Linssen, director ship management, at Van Oord gave a presentation on how the company has been trying to attract 'young and enthusiastic people' in recent years.
'At Van Oord, we try to work "increasingly greener",' said Ms van Lend. 'which is important to many young people. It's also fun working in the dredging, as Dennis indicated in the starting video, and as a sector we will have to make that more visible when promotion careers in this beautiful profession to young people.'
There is a future!
Nautilus deputy general secretary Marcel van den Broek provided parting words to wrap up the Symposium: '"Future Netherlands Scheepvaartland" – we chose this theme and deliberately left it to the speakers to decide what to say. Reviewing the messages of the previous speakers, I conclude that there is certainly a future for the Netherlands as a shipping nation. I am delighted about that!
'But also, try to imagine what the world or our country would look like if the Scheepvaartland slowly ceases to exist. If the knowledge, experience and skills available here in the broad maritime cluster slowly dry up, what does that mean for the Netherlands as a distribution country? The more I think about it, the more absurd it seems.
'At the same time, we face a huge challenge together. The intake on maritime, hydraulic engineering and inland shipping courses leaves much to be desired. Large numbers of Dutch people working in shipping will retire in the foreseeable future and many experienced employees have thrown in the towel early during the Covid years. Moreover, the lack of employees is not just a Dutch issue. Even countries that are known for being able to supply many seafarers are experiencing problems.'
What does Generation Z want?
'And then we also have to deal with young people born between 1995,' Mr van den Broek continued. 'The new influx comes from this generation. What do we actually know about them? They are the first generation for whom digital technology has always been there. What does it take to win over young people from this generation to work in shipping?
'Retaining existing talent is just as important as the new inflow. Talent won't necessarily continue to sail faithfully. Yes, offering good wages is important, but as an employer, thinking about and being open to help with the challenges that seafarers face in various phases of life is at least as important. There is still a much to be done here. As a trade union for maritime professionals, we like to make such improvements when negotiating collective bargaining agreements.
'Finally, Nautilus is ready to discuss the future of the Netherlands as a shipping country with employers, maritime training institutes, and certainly also with the Ministry of Infrastructure and Water Management!'
After this, most of those present enjoyed a drink and the view of ships sailing past the Delta Hotel – with or without the necessary young people onboard…
---
Tags