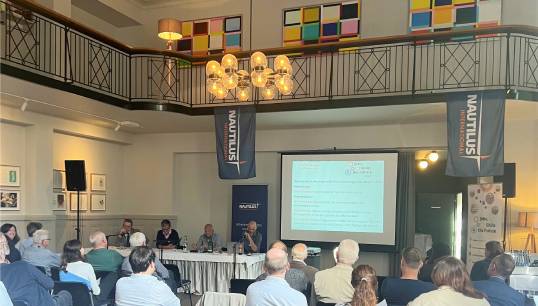 A recent Nautilus Swiss symposium on 'Ensuring fair and transparent work in public infrastructures' discussed the need for formal 'charters' for decent working conditions at ports. The public symposium was held on 12 October 2022 in Basel following an internal annual meeting of Nautilus International's Swiss branch.
The planned publicly financed construction of a new trimodal port terminal in Switzerland known as 'Gateway Basel Nord' came under the spotlight at the Union's October symposium. It sought to present the public with an overview of various problems of non-transparent and precarious working conditions in the sectors of shipping, road transport, port handling and rail. The aim was to discuss how the construction, and, above all, the operation of the port infrastructure could be linked to social standards.
The symposium was attended by 32 participants – including many representatives of local authorities, media, political parties, terminal operators and managers of logistics and shipping companies and raised several constructive debates.
Mark Dickinson, Nautilus International general secretary, emphasised in his welcoming speech the great importance of the Basel region with its three existing ports for national and international supply chains. With the Rhine providing the link for global maritime trade to the so-called ARA ports – Antwerp, Rotterdam, Amsterdam – as well as the new freight rail tunnel through the Alps to the Mediterranean Sea. The combination of ship and rail has 'enormous economic and increasingly ecological potential'. Yet transport hubs like ports, have always had a fundamental social dimension; a hub like Basel on the border with France and Germany, which is frequented by a multinational transport workforce in particular.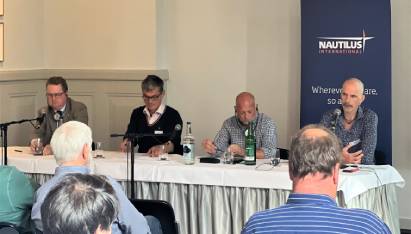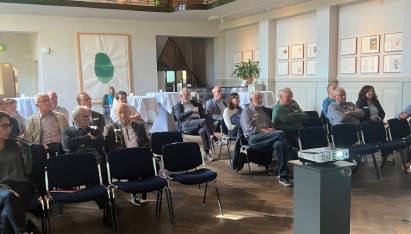 'Letterbox' employers
Nautilus national secretary in Switzerland, Holger Schatz, presented an overview of the trends in shipping. In addition to the generally relatively low wages in inland navigation – which are strongly determined by the deregulated overall situation on the rivers of continental Europe – the increase in non-transparent company constructions, especially 'letterbox' companies, has been a problem in Swiss inland navigation for some time. This mainly concerns Dutch shipping companies that issue employment contracts under Swiss law through a trustee or lawyer in Switzerland, while the management and personnel department continue to operate from the Netherlands.
Actually, a Swiss employment contract has many advantages, apart from protection against dismissal. For example, social security contributions and taxes are low, there is a good pension fund system that guarantees good benefits and about 250 euros per month are paid by the state as child benefit for each child. However, if you are employed by a 'fake' Swiss employer, the problems accumulate very quickly. Especially in exceptional situations such as accidents, accidents, and illnesses. Chaos quickly ensues because the Dutch management and personnel department do not understand much about Swiss law and there are no local contacts.
Mr Schatz estimated that about 1,000 maritime employees work for such 'fake' Swiss employers.
Recently the Social Democratic Party asked a question in the city parliament demanding the cantonal government provide concrete information on the extent of foreign shipping companies registered in Switzerland with Swiss employment contracts. On the basis of the data provided, one plan could be to draw up a 'charter' with firm demands on the responsible regional government, as well as the operators of the existing port infrastructures in the greater Basel area.
The Port of Amsterdam recently issued something similar in the form of a circular to all rivercruise companies calling at Amsterdam stating that the port should be free of exploitation. The port cooperates with Nautilus International, which is invited to conduct ship visits at the passenger terminals. Companies are required to allow Nautilus on board, according to the circular.
A bolder move would be for a policy statement to be communicated in Basel to all transport companies including foreign companies from the ship, rail and truck sectors, who want to use the infrastructure of Basel ports – including rivercruise berths. This could require customers to allow trade unions, as experts on international regulations and workers' representative bodies, appropriate access to workers so that they can exercise their legally guaranteed freedom of association without fear.
Nautilus believes we have a duty to name the structures that lead to abuse and it is time for Swiss authorities to finally open their eyes, so that Switzerland as a shipping location does not degenerate into an offshore hub.
---
Tags