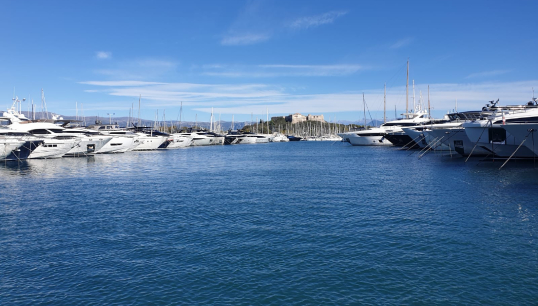 Strategic organiser Laura Molineux reports on visiting one of the world's premier superyacht events to meet crew and Nautilus members
Preparing for the 2022 Monaco Yacht Show (MYS), Nautilus International was wary but also hopeful. The Union was unable to visit in 2020 due to the coronavirus pandemic, and when we returned in 2021 we were unable to gain access to vessels or speak with crew due to ongoing restrictions. This year I attended along with my fellow strategic organiser Cheryl McCann, and we were hopeful that we would have more opportunity to get together with members and other superyacht professionals.
As it turned out, 2022 marked a return to normality. The show ran 28 September to 1 October and this year a Sustainability Hub was unveiled – a new exhibition area welcoming companies that specialise in technology aimed at reducing superyachts' environmental footprint.
We were able to use the occasion to meet with crew and captains docked at the event and to speak with industry connections who were also in attendance including representatives from superyacht publications and Viking Crew, as well as the Union's Strategic Partners JPMA & Hoylake Sailing School and Impact Crew, amongst others, during the visit.
MYS is a great opportunity to meet with crew and the wider yacht sector community. We strive to open dialogue with crew, agencies, employers and owners across the sector, as Nautilus is the only trade union operating globally in the yacht sector. Cheryl and I were very happy to have been able to attend on behalf of Nautilus and meet with such a variety of people both working in, and connected to, this ever-growing industry.
Strategic organisers meet crew in Antibes
Ahead of the 2022 Monaco yacht show, Strategic Organisers Cheryl McCann and Laura Molineux visited Nautilus International's office in Antibes, where they met with crew and captains along the dock, in local crew houses and other venues popular during shore leave.
They held a drop-in session for members and non-members where crew could come and speak informally about any concerns they were having onboard in relation to their contracts/employment. Nautilus also took the opportunity to meet with a recruitment and placement service provider who advocates union membership with Nautilus International. Nautilus encourages seafarers to use dedicated and approved agencies when seeking employment in the superyacht sector.
'It was lovely to meet our members and put faces to names, we also had a wonderful opportunity to reach out to prospective members and partners to highlight the benefits of joining the union ahead of potential disputes arising,' Ms Molineux said.
Ms McCann added: 'What a productive visit! Great to meet so many of our members out and about in Antibes whilst also getting the chance to chat to non-members, and prospective new partners, outlining the many benefits of becoming a Nautilus member.'
Superyachts is the fastest-growing membership sector for Nautilus International. Benefits for members range from the popular seatime verification/SRB service to support with employment issues including unpaid wages and repatriation.
If you have an issue you would like to raise with the team, please get in touch via yachts@nautilusint.org
---
Tags