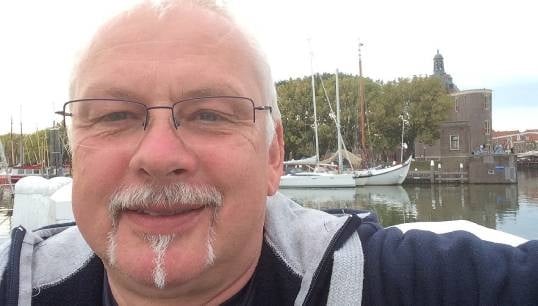 Inland waterways master and Nautilus Council member Harald Ludwig has a deep sense of justice for the nautical industry and the wider environment, and is keen to pass on his skills to a younger generation. Atypically for someone navigating Europe's rivers, he doesn't actually like being in the water, but he's very sporty ashore in his leisure time.
What is your job?
I'm an independent master.
What originally attracted you to a career in maritime?

In our family, I am currently the first and only sailor. I wanted to go to sea when I was young, but that wasn't possible in the GDR [former east Germany] at the time if you had relatives in capitalist foreign countries, like I did. So I ended up in inland shipping and started my apprenticeship in 1978.
I started learning the profession at the age of 16, but then went ashore for my time in the army and then worked in various jobs for more than 20 years. In 2005, I returned to my roots and I passed my Rhine licence for the entire Rhine in 2007. Since 2008, I have worked primarily on cabin ships and have been an independent captain since 2018.
What does your current job involve?
I am currently, a corporate captain/ service provider for a large ship management company.
Tell us some of your career highlights so far.
Passing the Rhine licence exam was by far the biggest professional highlight.
What have been some of your biggest career challenges?
The biggest challenge was the industrial dispute with Viking River Cruises in 2015.
Who has helped you the most in your career?
There have been many interesting and smart people in my life, from whom I have learnt a lot. My greatest supporters were my parents, who supported me in word and deed on all paths. In the maritime sector, I owe a lot to my captains, who imparted their own knowledge to me and opened many doors.
How long have you been a member of Nautilus?
I have been a member of Nautilus since 2015, during our dispute with Viking River Cruises. All colleagues who were involved at that time were able to benefit from the Union's know-how.
Are you a member of any Nautilus forums or committees, or have you attended a Union conference like the General Meeting?
As a member of the Swiss National Committee and the Council of Nautilus International, I was at a previous GM in Rotterdam and very impressed by the organisation, the spirit and the power that was conveyed there.
What is the one change that would make the biggest positive difference to your job as a maritime professional?
A reality and practice-based approach to work.
What are your plans for the future?
I would like to pass on my knowledge to other colleagues and young people, so I am working towards being even more involved in the training of future sailors and skippers.
What do you like doing in your free time?
I spend my free time in the garden, if possible with the family. I love experiencing nature and refuelling with exercise in the fresh air, cycling, canoeing and bowling.
What is your favourite place you have visited during your career?
The best place is always onboard a ship with a good crew. Then you can enjoy everything else that makes up our profession and share it with other people.
Tell us one thing that people may not know about you.
To be frank, I actually don't like being in the water, which is perhaps not typical for a sailor!
---
Tags