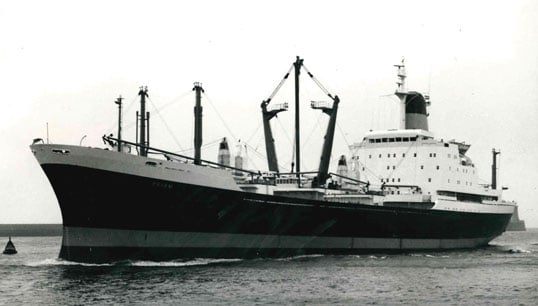 In 2021, our regular Telegraph feature Ships of the Past went online with a special interactive hub at www.nautilusint.org/ships-of-the-past.
The hub has led to engagement with our historic ships from all over the world, and readers have been sharing their memories of the vessels too.
One Nautilus member has a childhood memory of an important moment in the story of the Malakand:
'When the Malakand went up, I was collecting water alone at Huskisson Dock. I remember all the stuff coming over the top, all sorts of debris: bits and pieces of steel and flyboard over a mile away.'
Alex Harrison
Another reader was told about the Priam by his father Ron Blundell and has sent in some fascinating pictures:
'From what I remember him telling me, he said she was the most advanced ship in the fleet at the time.'
Keith Blundell
And our most popular historic ship Toyko Bay has attracted some additional – rather spooky – memories from someone who served on the vessel:
'There was a legendary story about a man killed many years before at a drydock in Germany. I believe he was trapped or fell inside a tank or hold. Therefore, the crew used to say watch out for 'Herman the German' and there were many strange stories of seeing or hearing people near where the incident happened.'
Gareth Mathias
There are lots more memories to read online, as well as fascinating facts about dozens of vessels: just go to www.nautilusint.org/ships-of-the-past and browse.
If you'd like to add to the memories of any of the ships, you can share your story by clicking on the Contribute tab on the selected vessel's page and filling out the online form – or email a short 100-word comment to telegraph@nautilusint.org.
Photographs are welcome too: please send high-quality images in .jpg format to telegraph@nautilusint.org and we will consider them for addition to the relevant Ships of the past page online.
And don't forget you can chat about each ship on social media, too. Test your knowledge on historic ships every Wednesday by guessing our featured ship on Twitter, Facebook and LinkedIn before it is posted on Thursday!
---
Tags