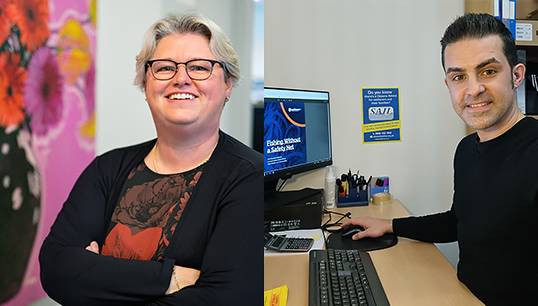 There's new leadership at two major maritime charities. Shipping CEO Karin Orsel is the new chair of ISWAN, while SAIL manager Michael Edwards has just completed 100 days in his new role at the Citizens Advice service for UK seafarers. Nautilus interviewed them both on their backgrounds and goals for their organisations
Chair of ISWAN Karin Orsel
What's your background? I am the founder and CEO of MF Shipping Group and have been a trustee of ISWAN for seven years. I am the vice chair of the European Community Shipowners' Associations; a board member on the Royal Association of Netherlands Shipowners, the International Chamber of Shipping and BIMCO; a member of the executive committee of INTERTANKO; and an ambassador for WISTA International.
When did you take on the role? I took over as chair in January 2023 from Andy Winbow, a former assistant secretary-general and director of the Maritime Safety Division at the International Maritime Organization, and will serve for two years. I am very pleased with the trust placed in me and proud to serve as chair within ISWAN.
What does the role involve? I will work with ISWAN's board of trustees and staff to help ISWAN achieve its three-year organisational goals, including reducing its reliance on grant funding, developing new initiatives for seafarers' welfare, and raising ISWAN's profile as a catalyst for delivering positive change.
What are your goals for the future at ISWAN? With all the challenges facing the world now and in the years to come, it is essential to have a common focus on the welfare of seafarers. Our mission is to improve the lives of seafarers and their families by providing direct support and collaborating with industry stakeholders.
SAIL manager Michael Edwards
What's your background? I've spent the past 20 years working in the charitable sector, helping some of the most vulnerable members of society to understand their choices and assert their rights, including supporting the homeless and managing a statutory mental health advocacy service for MIND, both in London.
When did you take on the role? I joined SAIL at the beginning of October 2022.
What does the role involve? Managing a diverse team of advisers, including specialist debt workers; engaging with third-party organisations within the maritime welfare charity sector; ensuring that SAIL continues to have a presence in forums where services for maritime workers are discussed; and meeting service users to find out what they need.
What are your goals for the future at SAIL? I want to build on what I've inherited; raise SAIL's profile so that all UK seafarers know where to go for help; make the service available to those who don't currently access it; and support the hard-working SAIL team. I joined at a unique time, with overwhelming demand due to the cost-of-living and shellfish fishing crises. Our bread and butter is debt and benefits, so while the future is important, we have to be responsive to the here and now and make sure we can meet demand from clients.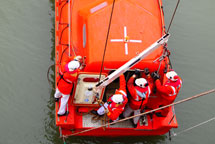 Get Help
Nautilus 24/7
Emergency helpline for Nautilus Union members, wherever they are.
www.nautilusint.org/nautilus247
Nautilus Caseworker Service
Visits retired UK seafarers to help them access benefits and grants.
www.nautiluswelfarefund.org
SAIL
UK Citizens Advice helpline for seafarers providing free and confidential advice on debt, benefits, housing, pensions, charity grants, consumer problems, immigration and family issues.
sailine.org.uk
Sailors' Society Wellness helpline
Fully confidential mental health service available 24/7 to all seafarers and their families.
www.wellnessatsea.org
Seafarers Hospital Society
Provides health and welfare grants to seafarers and their dependants, and to the maritime organisations that care for them.
www.seahospital.org.uk
Industrial issues
For work-related issues please contact your industrial organiser by emailing: industrial@nautilusint.org
Image: Lifeboat training Credit: Danny Cornelissen
---
Tags