Members at work
Tugmaster Lorna Baird on sea blindness, ship-handling and volunteering
24 March 2023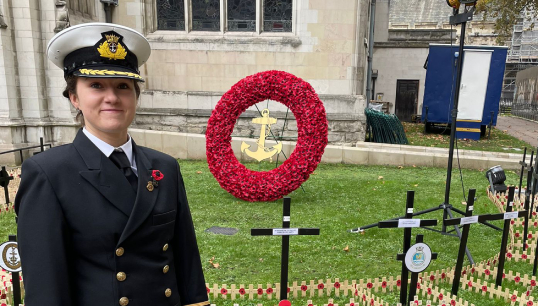 Scottish tugmaster Lorna Baird was a huge fan of ships growing up, despite coming from a farming community. Having followed her heart into maritime, she is keen to promote her fulfilling and exciting profession to others – and is dedicated to supporting the wildlife she sees at sea
What originally attracted you to a career in maritime?
Growing up I had always been interested in ships, in particular their design. I had a newspaper article about the construction of the Oasis of the Seas pinned up in my bedroom. But without any family members working at sea, growing up in a farming community and a lack of awareness about the industry ('sea blindness' as it's often called), I wasn't aware of the Merchant Navy and didn't think that I could work at sea.
It wasn't until I was due to leave school that I remembered my childhood interest and applied for any course that sounded remotely nautical.
What did you do in your career and/or education before joining the maritime sector?
I started my cadetship with Clyde Marine Training and studied at Glasgow College of Nautical Studies (now City of Glasgow College) straight after leaving sixth year of secondary school at 17.
What does your current job involve?
As a tugmaster I lead a crew of five in the operation of our Azimuth Stern-Drive tug. We operate predominantly on the Clyde, serving multiple ports. The main customer is the Royal Navy, so we regularly move frigates and submarines in and out of port. We also assist tankers and a large variety of other vessels. Aside from towage in and out of port, tugs are also on standby to assist vessels that break down or require firefighting assistance.
The work comes with a great deal of job satisfaction. Tasks often require a high level of ship-handling and communications with pilots, which gives the work a real sense of team effort.
Tell us some of your career highlights so far
That feeling when the MCA examiner stamps your Notice of Eligibility with a PASS is probably unbeatable. I remember when I passed my Officer of the Watch it felt like something I had really earned. I was so proud of myself. The exams I have taken since to gain each certificate of competency remind me of that feeling as a 20-year-old.
Observing nature is a massive perk of the job for me. Dolphins, whales, turtles, sea snakes, flying fish and sharks are just some of the wildlife I have been fortunate enough to see. Extremes of weather, along with spectacular sunrises, sunsets and starry skies will always be special for me.
What have been some of your biggest career challenges?
I have had some of my highest moments onboard and some of my lowest. The challenge is bouncing back after those difficult times when the easiest option is to give up. The tough days are completely outweighed by the years of good days, and powering through has always been worth it.
Who has helped you the most in your career?
When I first started working on tugs as a mate, I was fortunate to work with a master who wanted to train me and gave me every opportunity to learn how to handle the vessel. I felt completely out my depth when I went from large gas carriers which are twin screw and rely on tugs to manoeuvre to being on a tug that needs to be handled with precision to remain safe and deliver the best towage service.
I am also married to a seafarer who has encouraged me to see through the tough times and helped me study for exams. My family have always been supportive of my career.
How long have you been a member of Nautilus, and what made you join?
In 2011, during my first college phase as a cadet, Nautilus attended the college. Hearing Nautilus talk about the Union and the support available to seafarers made me want to join. I have been a member ever since.
Are you a member of any Nautilus forums or committees, or have you attended a Union conference?
I recently attended the Nautilus UK Branch Conference in Bristol, where I learned about many of the important issues the Union is working on. I am also a member of the Women's Forum and Young Maritime Professionals Forum, which are great for meeting like-minded people working in different parts of the industry.
What is the one change that would make the biggest positive difference to your job as a maritime professional?
I am fortunate to work a time-for-time rota, however there are many companies where this is not the case. Now, with air travel being so readily available, it doesn't seem acceptable or appealing to not earn equal time off, regardless of rank. I hope that in the future, with improved conditions for seafarers, working fully paid time-for-time will become the norm.
What are your plans for the future?
I see myself always working at sea. I thoroughly enjoy the unpredictable nature of working on the water as well as ship-handling. I hope to work on as many different vessels as I can and widen my experience. With the need for clean fuels and modern ships, I believe the industry has an exciting future and I look forward to the opportunities ahead.
What do you like doing in your free time?
I enjoy being on the water and spend my free time exploring the Scottish islands by kayak. Being able to wild camp in Scotland makes these islands and inlets much more accessible by kayak. Being outdoors has always been where I am most at home.
Are you involved with any maritime charities or volunteer organisations?
Through Maritime UK I volunteer as an industry ambassador. This role involves talking about the maritime industry to young people and children. It is highly rewarding to share my passion for the industry with others and to hopefully encourage young people to follow their dreams.
Spending so much of my time on the water meant that volunteering as a marine mammal medic while at home was important to me. With British Divers Marine Life Rescue, Marine Mammal Medics respond to calls of injured or stranded animals such as seals, dolphins, and whales throughout the UK. One of the most enjoyable parts of my job is observing marine wildlife in their natural environment, so I feel passionate about doing my best for these amazing animals.
What is your favourite place you have visited during your career?
I don't think I could pick just one place. I spent time as a third mate on LNG carriers and thoroughly enjoyed the Far East, in particular visiting Japan, South Korea, Singapore and Indonesia. Transiting the Suez Canal for the first time after it was widened to allow two-way traffic will always be a memorable moment in my career, as well as being inside the Arctic Circle.
However, having travelled to many different countries, I really enjoy the dramatic scenery we are fortunate to have on the Clyde. The area is surrounded by the natural beauty of mountains, sea lochs and islands.
Tell us one thing that people may not know about you
I am an accidental seafarer in the sense that I did not intend on going to sea and wasn't aware that working at sea was what I had applied to do!
I had wanted to be a naval architect, and when it was time to apply to universities and colleges, I applied for every course that sounded nautical. It wasn't until the first day of college I realised I had picked a course that involved going to sea! This turned out to be a good mistake and I am grateful for it now.
---
Tags