Members at work
Second officer Nicky Boak on starting a cadetship in your 30s, trombones, and hoping to sail the Northwest Passage
3 February 2023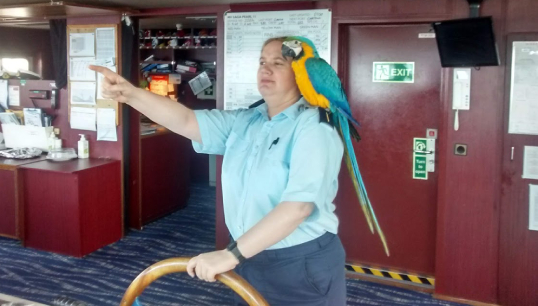 Committed trade unionist Nicky Boak first went to sea on survey ships as a geologist, and then took the decision to embrace a full-time maritime career. She is now enjoying the opportunities available to her as a second officer at her current employer Trinity House
What is your job title, and what company do you work for?
Second officer at Trinity House, although when speaking to non-nautical people I sometimes just say I'm an 'officer of the lighthouse service'.
Do you have any personal or family connections to the sea or inland waterways?
Not strong ones. A friend of my parents spent a decent portion of his working life as a deckhand with Clan Line and he'd tell stories and write songs of his adventures that I heard as I was growing up. I've always lived near the sea, though, and knew I didn't want to spend my working years stuck in an office somewhere.
What did you do in your career and/or education before joining the maritime sector?
I came into the industry in a sort-of sideways manner. My initial training was as a geologist, and after a few years I ended up doing a master's degree in Applied Marine Geosciences, which then led into the survey industry in the North Sea as survey crew. When the market crashed in the middle of the 2010s, I found myself redundant and decided I wanted to stay at sea, so started applying for cadetships.
What does your current job involve?
As a watchkeeper, my main priority is the safe navigation of the vessel and supporting the captain. Everyday tasks include things like checking the passage plan for the morning, GMDSS checks, completing my compass error calculations, as well as coastal passages. As I work for Trinity, though, there's a load of additional duties too.
I've just completed HLO [helicopter landing officer] training for when we work with a helicopter to transfer equipment and supplies to remote lighthouses, but our bread-and-butter work is buoy maintenance, where it's my job to assist the captain on the bridge as the vessel sits in DP [dynamic positioning] while we lift and service the buoys.
What have been some of your biggest career challenges?
Convincing people that I was sure about wanting to start a cadetship in my 30s. I think in the end that extra maturity helped, as I've not really had the same experience of others doubting my choice based on my gender as I know some cadets get; but I did spend a lot of time explaining that, yes, I definitely did want to switch careers, and no, it wasn't just a passing phase brought on by being made redundant.
How long have you been a member of Nautilus, and what made you join?
I joined in summer 2016 when I accepted the offer of my cadetship. SSTG [Ship Safe Training Group] sent a Nautilus form in the pack with my contract and other important documents. Having grown up in an old mill town, and then moved to a coal field, trade unionism was always in my blood. I was always going to join a maritime union, and Nautilus was the one that fitted best for my career at that point.
Are you a member of any Nautilus forums or committees, or have you attended a Union conference like the General Meeting?
Just the recent UK Branch Conference in Bristol so far, but hopefully more in the future, sea time allowing. I'd also consider getting more involved as a volunteer.
What are your plans for the future?
I have no current plans to come ashore, and intent to work my way up to my Master's ticket, then hopefully my own command. I'd also love to sail the Northwest Passage sometime.
What do you like doing in your free time?
Anyone who has sailed with me will tell you I'm a bit of a nerd. History, science, real ales, folk music, books… you get the picture. I represented my university at archery and keep meaning to get back into it. Mostly though I spend my off-time gaming with friends: boardgames, tabletop role playing games like Dungeons and Dragons, or multiplayer computer games. Oh, and I'm a brassbander, usually playing trombone, but also tuba on occasion.
Are you involved with any maritime charities or volunteer organisations?
I'm a member of my local RNLI fundraising branch. I live just a little too far inland to qualify for boat or shore crew, but I do what I can to ensure that the operation volunteers who do go out to risk everything for others have the best kit and equipment we can give them.
What is your favourite place you have visited during your career, and why?
In general I think Norway. I used to spend a lot of time there when I worked on survey ships and it's just stunning. The scenery is amazing, and the people are very welcoming and friendly. For specific places then it's a toss-up between Iceland, which really appeals to me as a geologist, and St Helena for its remoteness and history (and wharfside cat!)
Tell us one thing that people may not know about you
I have more trombones than limbs.
---
Tags