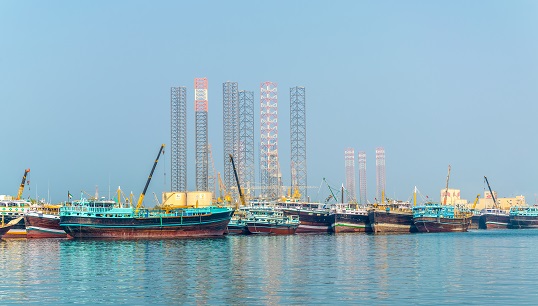 Five seafarers have been freed after spending a year trapped aboard when their employer went bust. Andrew Draper reports that this situation is not uncommon in the region
After a year of isolation on an abandoned ship in the Persian Gulf, five seafarers from the Philippines and Ukraine were freed from the Eide Trader following an intense intervention by the International Transport Workers' Federation (ITF) in Norway. The heavy load carrier, built in 1975, was owned by a Norwegian company Eide Marine Logistics and registered under the Marshall Islands flag of convenience.
The seafarers had effectively been held hostage in the port of Khalid, UAE, after the ship got caught up in the after-effects of coronavirus. Eide Marine Logistics filed for bankruptcy on 2 December 2020 due to a lack of work during the pandemic, according to ITF.

The port of Khalid, in the emirate of Sharjah, closed and port authorities refused to allow the seafarers ashore.
Neither Eide Marine Logistics nor the administrator of the company, stepped in to help the crew.
ITF was unable to arrest Eide Trader, but managed to secure the intervention of P&I Club Gard, which supplied the men with food and fuel and helped repatriate them.
The last of the five seafarers went home on 5 February, according to ITF co-ordinator in Norway, Angelica Gjestrum. She explained that, although the crew need to rest, they also need to get back to sea to earn an income, something they have not had for the past year.
'They have a lot of money outstanding. They need to find other jobs and get to sea again. It's not so easy,' she said.
ITF has registered a creditor claim for unpaid wages for total outstanding amount in excess of US$600,000.
The port of Khalid is one of the biggest creditors with an interest in the vessel. Ms Gjestrum hopes the men will be able to get 70%-75% of their wages paid out of the vessel's sale, if it is sold quickly. If not, they risk getting nothing. 'I hope the vessel is sold as quickly as possible. The longer it stays in port, the more the charges are to the port.'
There are other crews in similar situations in the region, including in Egypt and Libya,' Ms Gjestrum, said. One crew protested with a hunger strike and a seafarer on another vessel killed himself.
---
Tags