Careers
Improving working conditions at sea is an 'imperative task' say young maritime thought leaders
14 September 2022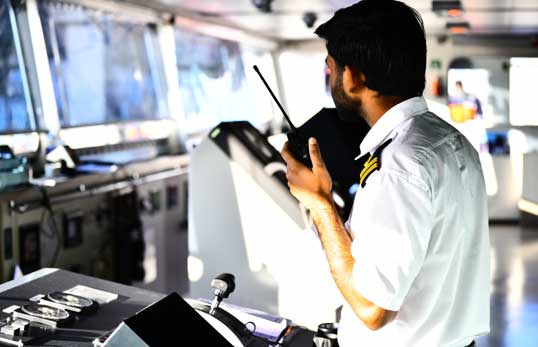 How an employer treats its seafarers is a major factor in whether they decide to take a job, according to Generation Y and Z responses to a Global Maritime Forum (GMF) Future Leaders initiative which reveals the depth of the seafarer recruitment problem. Deborah McPherson reports
This year's Future Maritime Leaders Essays competition looked at stressors on seafarers. The young thought leaders in the maritime industry have strong visions of what it takes to attract a broad pool of talent.
A key theme to emerge from essayists was that human sustainability is the most important consideration for a young seafarer's choice of employer.
The essay competition drew 188 contributions from 27 countries. Three-quarters of entrants live in Asia, with India providing 104 essays. Some 83% of essayists were male.
Looking at the contributions, the GMF commented: 'Human sustainability is not just an abstract concept for young talents below the age of 30 but is reflected in where they choose to seek employment and who they will eventually decide to work with and for.'
The opinions expressed by contributors align with Nautilus member responses to the Union's Social Conditions Report 2022, which mention a similar lack of employer support in working at sea.
This shift in attitudes to recruitment is also echoed in a poll by Sailor's Society at its recent Wellness at Sea Maritime Schools conference where 78% of the Indian and Sri Lankan cadets in attendance agreed 'how they treat seafarers' was the most important factor when choosing a shipping company. 84% of those polled at the conference said technology and the ability to connect with family back home improved their relationships.
A BIMCO/ICS Seafarer Workforce Report, which was released in mid-2021, revealed the breadth of the global seafarer recruitment problem, particularly in response to the Covid-19 pandemic; it predicted a shortfall of 26,000 officers by 2026, making it imperative for shipowners to attract new people into the industry and retain existing seafarers.
The majority of the 44 essays addressing human rights and human wellbeing zoomed in on the current state of physical and mental health at sea. Fatigue, exhaustion, and burn-out were discussed in 12 essays, while the other 32 focused on the challenges posed by the crew change crisis, working hours, and shore leave. Many essays also pointed out that isolation from family, lack of rest time, stress, anxiety, and discrimination are making life at sea increasingly challenging. The lack of prevention and support for mental health issues, combined with poor internet access, are key challenges that need to be urgently and collectively addressed by the industry.
The 'human element' is an essential condition for the global maritime industry to achieve the United Nation's 2030 Sustainable Development Goals, in addition to the two major transformations of decarbonization and digitalization Global Maritime Forum
As well as the crew change crisis, young essayists also drew attention to a long list of other concerns: sexual harassment, human safety concerns, outdated training set-ups, poor mental and physical health, lack of diversity, long working hours, and payment issues.
They call for a transformation in seafarers' physical and mental health. Practical proposals included the creation of a global mental health hotline, supported by an openly available online platform for training.
Among the 13 essays discussing different aspects of diversity and inclusion, gender imbalance at sea remains the predominant concern. Several essays call out the industry for still discriminating against female seafarers. Some companies are still reluctant to employ female seafarers, while multiple essays highlight the challenges of sexual harassment and safety threats faced by female seafarers. Other criticisms covered issues campaigned on by Nautilus, such as companies failing to provide female cabins, sanitary bins, and proper personal protective equipment for female seafarers – and a generally safe environment for women onboard ships.
Being able to provide a more humanly sustainable work environment before 2030 would require maritime industry leaders and policymakers to now engage further with these young professionals and changemakers in finding new and more ambitious ways to create a more ethical, human, and attractive maritime industry, said the GMF.
READ: The Nautilus International Social Conditions Survey is a decades-long research project that lifts the lid on how seafarers are treated in the maritime workplace – in the words of Nautilus members themselves. It is the world's largest, independent, survey of seafarers for seafarers, and lays bare the systemic treatment of a global workforce that is mostly 'out of sight and out of mind'. Nautilus urges governments to develop proactive policies to maximise the employment of seafarers and equip them with the skills required to take advantage of future opportunities.
---
Tags