It's been a long time coming, but this year will see the introduction of a formal route for some Royal Navy seafarers to convert their qualifications and seatime into UK Merchant Navy certification – and further developments are on the way…
A new fast-track scheme has been launched for suitably-qualified Royal Navy personnel to transfer into the Merchant Navy on leaving the service.
Intended for RN warfare officers and marine engineers of all ranks, the Fastrack Maritime Scheme builds upon the reissue of the Memorandum of Understanding (MoU) with the UK Maritime & Coastguard Agency (MCA) in 2018.
The scheme has had input from Trinity House, the Merchant Navy Training Board (MNTB) and Chiltern Maritime, as well as the Royal Navy itself. Eligible RN seafarers can now use their existing qualifications to reduce their induction training and achieve salaried transfer to the Merchant Navy – and onwards into the wider maritime sector, both afloat and ashore.
Lieutenant Thomas Stapley-Bunten is the first to benefit from the new scheme. He is set to leave his role on the training staff at Britannia Royal Naval College in Dartmouth this year, after a successful career as a Royal Navy warfare officer. The 26-year-old, who has previously served as the commanding officer of HMS Example, is being sponsored by Trinity House in its capacity as a maritime charity. The scheme attracts SMarT funding from the UK government and is administered by Chiltern Maritime Limited. It is modelled on the training and finance pathway on the Merchant Navy's graduated engineer entry scheme.
Although this scheme is currently only open to warfare officers and marine engineers, the Royal Navy is developing an ambitious full MCA parity programme for future personnel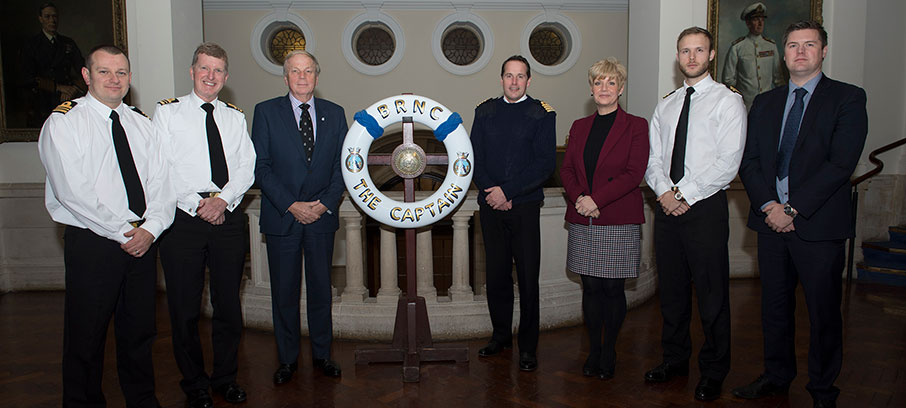 With the sponsorship and funding, Lt Stapley-Bunten will also use his Royal Navy enhanced learning credits to complete his full MCA Officer of the Watch (Unlimited) qualification in just twelve months; a saving of nearly three years on the traditional Merchant Navy entry.
Furthermore, as he is RN command qualified (CQ1), the MCA MoU recognises fast track potential to Master Mariner (Unlimited), which may be achievable from his RN start in only four years – something that can take ten years if starting from scratch.
During the college phases of his training, Lt Stapley-Bunten will live at his home and attend South Shields Marine School. The course has been shaped by the college's deputy principal Simon Ashton, to suit the reduced MoU requirements. Lt Stapley-Bunten will only need to complete three months of Merchant Navy familiarisation sea time, on top of his already-accrued Royal Navy sea time, to take his MCA Officer of the Watch (OOW) Certificate of Competency (Deck) (Unlimited).
Lt Stapley-Bunten said: 'The Fastrack Maritime Scheme works perfectly for me – it allows me to carry forward my existing skills and experience to a new employer within the UK's maritime sector. After I have gained my OOW (Unlimited) qualification through the scheme, my intention is to continue with a varied career at sea whilst also studying to become a chartered master mariner. The Royal Navy has served me well and given me an exciting and varied career so far, and I intend to retain my links to the RN by applying for Operation Firefly, the Royal Navy's initiative for seamless transfer to the Reserve Service.'
Although the Fastrack scheme is currently only open to warfare officers and marine engineers, the Royal Navy is also embarked on an ambitious full MCA parity programme for future personnel that will give junior officers, senior officers and ratings MCA certification over their Royal Navy careers. This is part of a wider maritime-focused apprenticeships application in the Royal Navy that will be recognised by and transferable to the maritime industry.
Lieutenant Commander David Carter, the Royal Navy's Merchant Navy Liaison Officer, said: 'The Royal Navy is committed to supporting the Department for Transport's Maritime Growth Study, and this scheme is just one of the ways we are doing that. Multiple retention-positive pathways will in due course ensure absolute full seamless resettlement transfer capability and with MCA qualifications directly into Merchant Navy roles where applicable.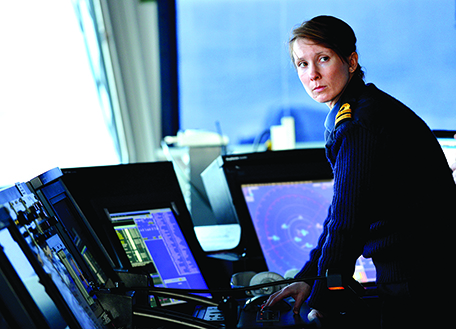 'The UK maritime sector is high value to the UK economy and currently faces a deficit in the maritime skill sets. It consequently attracts terms and conditions some 30% above the national average, and for seagoing appointments invariably salaried one-on one-off rotations of variable trip lengths, in many cases tax free, according to trade.
'Senior MCA certification is the maritime door opener to valued positions ashore. Highly-trained ex Royal Navy personnel are a desirable fit into the wider maritime sector, and in an environment that fits well with the Navy ethos. This will give the MCA qualifications to match.
'It also adds value to those wishing to retain their Royal Navy links and camaraderie by continuing, as in Lt Stapley-Bunten's case, in the Royal Naval Reserve with absolutely current maritime skill sets for ease of dual roles.'
Merchant Navy companies wishing to support the Fastrack Maritime Scheme by including it within their existing SMarT funded training programme, and Royal Navy personnel seeking resettlement with this pathway, please contact David Carter at david.carter516@mod.gov.uk or on +44 (0)1329 333 590.
Images: MoD
---
Tags