Campaigning
Fair Ferries campaigning: P&O Ferries – a bleak new chapter in employment rights
26 May 2022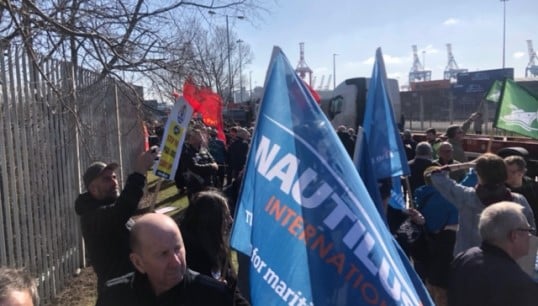 On 17 March 2022, the management of P&O Ferries brutally sacked 800 loyal and dedicated British seafarers, planning to replace them with agency staff paid below the mininum wage.
In doing so the company shattered its reputation, showed utter disregard for safety standards put in place following the Herald of Free Enterprise disaster, and simultaneously drove a knife into the heart of the UK government's Maritime 2050 strategy.
Questioned in parliament, CEO Peter Hebblethwaite admitted to MPs that the company deliberately chose to break the law when making the seafarers redundant. Management was legally required to consult with trade unions before making redundancies, but chose not to because: 'It was our assessment that the change was of such a magnitude no union could accept it'. The change he referred to is the company's new business model – a shift to insecure employment, and rock-bottom pay and conditions. Worse, Hebblethwaite has repeatedly said that he would make the same decision again.
Nautilus International and its partner unions are now fighting to ensure that this deplorable action is never repeated. We demand that the management of P&O Ferries is held to account for its flagrant lawbreaking and mistreatment of workers. P&O Ferries must not be permitted to trash workers' rights and continue this race to the bottom in the ferry sector.
Creating change
In response to the illegal sacking of 800 dedicated workers by P&O Ferries, Nautilus has launched its Fair Ferries Strategy, a framework to create good quality employment and a level playing field in the ferries sector.
1. A collective bargaining revolution
Our Fair Ferries Strategy – developed by Nautilus International, working with the RMT union and industry partners – introduces an industry-wide framework linking the right to operate a ferry service with union collective bargaining. Collective bargaining agreements would reflect the highest minimum standards of the countries on the route to encourage the employment of local seafarers.
This balanced but ambitious strategy would encourage social dialogue between unions and employers in each country. It would stop operators like P&O Ferries from treating workers as expendable, while ensuring a competitive environment for businesses to flourish, creating a true 'level playing field' that encourages a race to the top rather than a continuation of destructive competition that drives a race to the bottom in employment and safety standards.
2. A real cost for misconduct
P&O Ferries broke the law by not consulting with unions, but sanctions appear to be sufficiently weak that P&O Ferries simply calculated the cost it would have to pay for refusing to consult and for unfair dismissal cases, then factored that into its redundancy offers. This sets a very dangerous precedent that companies can pay their way out of complying with the law.
This must change. Government needs to urgently look at providing a statutory right to an injunction to compel consultation, and at lifting the cap on protective awards, to ensure no company can buy its way out of consultation with unions.
Trade unions are bound by strict rules when arranging industrial action, but there are no immediate legal mechanisms to stop companies from taking the actions that P&O Ferries did. Nautilus insists that they must be held to an equivalent standard: trade unions must be able to apply for immediate injunctive relief to reverse the actions of an employer if they have failed to consult. Caps on protective awards should also be lifted, and courts should have the option to issue unlimited fines for companies and their directors to ensure that those thinking about buying their way out of a tribunal case think twice.
3. An end to fire and rehire
There are glaring gaps in UK employment law, including the practice of fire and rehire. Some have suggested that fire and rehire isn't relevant in the P&O Ferries situation – this is wrong. Over 90 of the dismissed maritime professionals were offered re-employment with P&O Ferries through the Malta-based crewing agency International Ferry Management.
The UK government has stated its intention to introduce a statutory code of practice which must be followed in carrying out dismissals, with a 25% uplift in compensation for failure to do so, but this makes little difference when companies can buy their way out of a tribunal process. Fire and rehire must be outlawed, no dilutions or equivocations.
4. Criminal sanctions
The UK Insolvency Service has announced it will pursue both criminal and civil investigations into P&O Ferries. This is a welcome move. Those responsible must be held to account.
5. Action on the minimum wage
P&O Ferries is paying a basic hourly rate of £4.35, based on contracts seen by unions – below the £5.15 quoted by Hebblethwaite in the select committee and representing less than half of the UK National Minimum Wage (NMW).
This narrow issue has been the focus of government action and is included in Transport Secretary Grant Shapps's nine-point scheme to 'Protect our Seafarers'. This plan centres on extending the NMW to cover seafarers and creating minimum wage corridors between the UK and international partners.
This is a welcome move, and Nautilus has long called for such measures to underpin and support the employment of UK seafarers.
Harnessing the outrage
Nautilus has worked tirelessly to support members working for P&O Ferries since news of the illegal sackings broke. What follows is an outline of our campaign.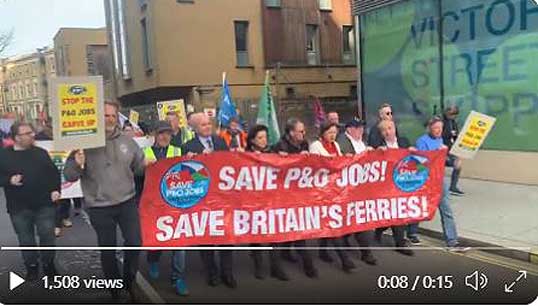 Give our jobs back!
Nautilus members were treated brutally by P&O Ferries, forced to leave their vessels by security teams with just a couple of hours to collect their belongings, some of which have still not been returned to their rightful owners. They were given outrageously tight deadlines to receive their redundancy packages from the company, and forced to sign non-disclosure agreements (NDAs) – effectively gagging them.
Nautilus helped members make their voices heard and demand redress. The union and members attended rallies across the country, including at DP World HQ in London, in Dover, Liverpool, Hull, Larne and Cairnryan.
The Union understands that members have to think about their families and their futures in a situation like this, and so was also on hand to offer legal advice to those affected. Unfortunately, the NDAs mean that many are now unable to speak, but Nautilus members and officials have still given dozens of interviews and comments to the press – from the BBC and national newspapers to local outlets in the affected communities.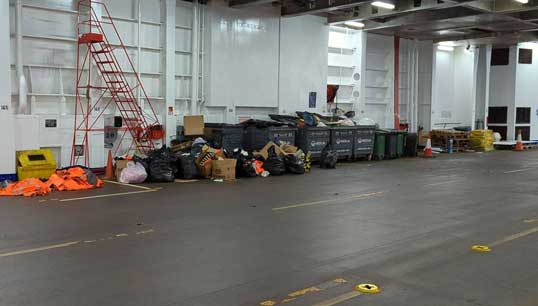 This has strengthened solidarity among the public and lawmakers and is ongoing, as we continue the fight against the company's actions.
Members and Union officials also joined together in the political battle, informing the senior leadership of the Labour Party about the needs of the P&O Ferries seafarers following the parliamentary debate covering the company's actions. Members have been key in fighting the political battle that is the only way to prevent a repeat of this crisis. Nautilus has been pushing hard in parliament, including giving evidence to the joint transport/business select committee about the terrible safety implications of what has happened.
In the streets
Nautilus members and officials vented their anger at P&O Ferries' callous actions at rolling protests across the UK.
Thousands of people turned out to show their support for sacked seafarers and demand changes to UK employment law to protect workers in the ferry sector.
The Union also supported the protests with campaign messages on the side of vans, coordinated with other transport unions to project a video on the white cliffs of Dover (see page 6), and managed to get a banner supporting seafarers in with Liverpool fans at Anfield to renew public interest in the story, all of which boosted support.
Union partnerships
Of particular importance to Nautilus's work with other unions in the UK was a linkup with Prospect, the trade union that represents surveyors working at the Maritime and Coastguard Agency (MCA), which implored its members and the MCA to ward off potential disaster by performing rigorous inspections before P&O Ferries vessels are permitted to sail. The RMT union was, of course, critically important in getting people on the street for protests.
Internationally, Nautilus members received messages of solidarity from unions across the country and the globe, including the French unions UFM/CFDT/FGTE, FEETS-FO, FOMM UGICT CGT and CGT FNSM.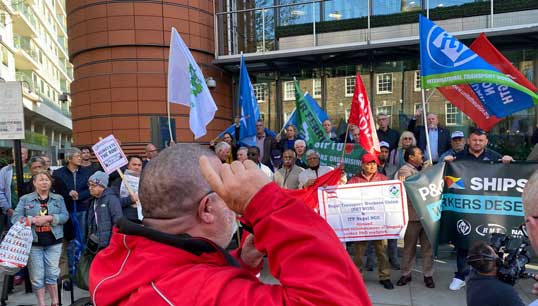 International Transport Workers' Federation (ITF) offered significant support, leading a protest at DP World HQ in London and also delivering a Global Letter of Protest and petition to the company's CEO Sultan Ahmed bin Sulayem in Dubai. The European Transport Workers' Federation organised and attended protests too, with general secretary Livia Spera leading union comrades from around the world at a further demonstration in London.
Since UK Transport Secretary Grant Shapps announced that he will seek to establish 'minimum wage corridors' for ferry workers, Nautilus has begun communicating with unions in neighbouring countries to discover their current wages and terms and conditions so that we can present that best arrangements to government. This capitalises on existing good relations with other unions outside the UK.
Creating systemic change
Lobbying work across the political spectrum began immediately. Nautilus developed a series of asks for government to hold P&O Ferries accountable, including to force the company to reconsider, return to the negotiating table and give our members their jobs back.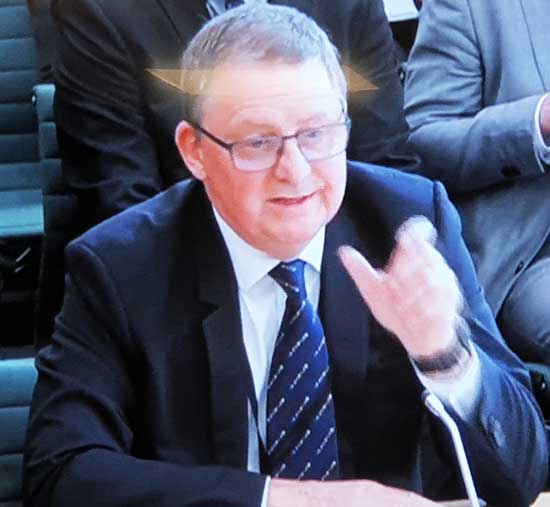 Nautilus briefed the Office of the Leader of the Opposition and staff of the Shadow Transport Secretary ahead of Prime Minister's Questions on 21 March. Sir Keir Starmer used his six questions to Boris Johnson to talk about P&O Ferries. General secretary Mark Dickinson appeared before the joint transport/business select committee on 24 March where he flagged safety fears about the new crewing model at P&O Ferries.
Outraged MPs grilled P&O Ferries CEO Peter Hebblethwaite, with their attitude summed up in a question from Darren Jones, chair of the business, energy and industrial strategy committee, who asked Hebblethwaite 'Are you incompetent or just a shameless criminal?' MPs were particularly angry at the way the company had calculated the cost of laying off workers without consultation and offered them packages in proportion to 'buy its way around the law'.
Despite tough words on the illegality of P&O Ferries' actions from the Prime Minister and front benchers including Transport Secretary Grant Shapps, it quickly became apparent that loopholes in employment law left the government and regulators without any obvious way to force the company to reverse its decision.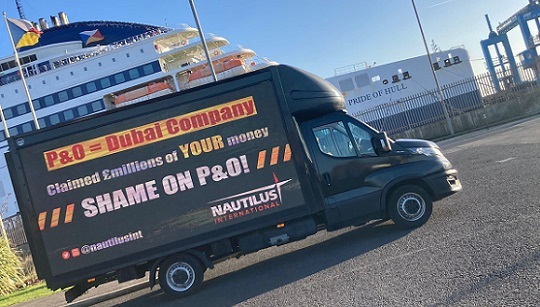 Nautilus International's response
Nautilus will continue to work with government as it develops its response, including on:
1. Transport Secretary Grant Shapps' nine-point plan for the ferry sector.
2. The Insolvency Service's criminal and civil investigations against the company. These focus on the legal duty of P&O Ferries to notify the flag states (Bermuda, Bahamas, Cyprus) ahead of making the redundancies.
3. Fire and rehire, including a code of practice published by the government in the wake of the sackings that will allow fire and rehire to be considered as part of employment tribunals.
The fight for systemic change has now moved to fixing those loopholes and the union is pushing for the long-awaited Employment Bill to be debated in parliament.
Now that the immediate crisis is over, Nautilus continues to work with government and MPs via our Fair Ferries Strategy and will report on further progress as it happens.
UK government's nine-point plan
---
Tags