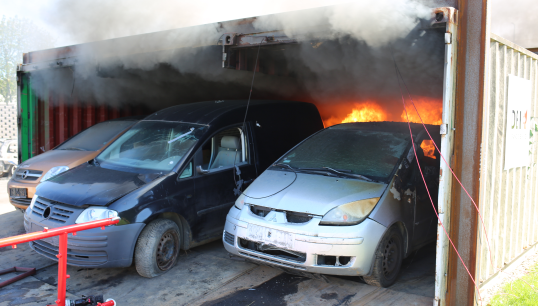 Seafarer safety is in question after a number of serious fires caused by lithium batteries – including a 13-day blaze onboard the Felicity Ace, which was lost off the Azores in March with 4,000 vehicles onboard. Andrew Draper reports on a project aimed at reducing the risk posed to ferries by the electric cars they are transporting
The Danish Institute of Fire and Security Technology (DBI) launched a project last year on how best to deal with electric vehicle (EV) fires onboard ships. Final conclusions are not yet in, but DBI says EV fires on ferries can be dealt with using the correct technology, education of crews and well-coordinated cooperation with emergency services on land.
Its project, 'Electric Vehicle Fires at Sea: New Technologies and Methods For Suppression, Containment, and Extinguishing of Battery Car Fires On Board Ships (ELBAS)' showed:
• lithium batteries give off toxic smoke
• lithium battery fires can be difficult to put out
• in some cases, EV fires spread very rapidly from car to car

The project is providing methods and materials. It is working with local first responders to adapt and transfer existing knowledge of EV-specific firefighting ashore to the maritime sector.
The overall goal, it says, is to present new, holistic firefighting strategies for EV battery fires at sea.
The project will also work to increase awareness of the complexity of EV battery fires and the need for short- and long-term solutions. DBI is leading and coordinating the project, run in close collaboration with Danish shipowning companies DFDS, Scandlines, Molslinjen, and with the Danish Emergency Management Agency.
'We found that how fires develop was very different, even though we had the same set-up from test to test. But that's also reality – no two fires are ever the same. Alexander Kleiman, manager of the ELBAS project
Drills essential
The special characteristics of EV fires mean that novel methods are needed to contain and extinguish them.
Carsten Møller, business development specialist maritime and power-to-X at DBI, highlights training as essential. 'In general we would recommend that on the basis of the project, crew members should do realistic tests – or realistic drills – to actually try the difference between a conventional car fire and EV fire.'
Theoretical drills are of limited value, he says, adding that tests should be as realistic as possible to reveal any issues in how equipment is used.
New methods
Fires as sea must be successfully contained and extinguished, so there is a pressing need to update and develop current standards and methods, according to DBI. Covering burning cars with fire blankets may be one method – or covering cars not on fire to protect them may be another.
DBI says water mist from sprinklers is highly effective, not at putting the fires out, but at stopping them from spreading, giving crews time to access fires and put them out in a traditional way.
Testing has been carried out in three 40-foot containers, designed to simulate a car ferry deck. The Danish Emergency Management Agency found last year that there is less risk of fire with hybrid cars or EVs than conventional vehicles. But when it happens, lithium battery fires can be more difficult to put out and may repeatedly flare up after being extinguished.
Battery packs are typically placed in the bottom of cars. There was a fear the heat of a burning EV could melt aluminium decks. But the tests showed the heat from the bottom of a car is not initially as intense as anticipated and decks were left with barely a mark after an hour-long EV fire.
Prepare for the unexpected
DBI says it can be problematic if an EV bursts into flames on the street. But it can be more problematic if it happens in a multi-storey car park surrounded by other vehicles, and very problematic if it happens on a ferry at sea among other vehicles with passengers onboard, and where a ship crew has the task of putting a fire out, far from land support.
Alexander Kleiman, maritime R&D project manager at DBI Advanced Fire Engineering and manager of the ELBAS project, said: 'We found that how fires develop was very different, even though we had the same set-up from test to test. For example, in our fourth test, fires had spread to the other cars after two minutes. But that's also reality – no two fires are ever the same.'
Final conclusions will not be ready until the autumn, but early indications are that modern battery packs are much more fire-safe than older ones. And the team believes that EV fires on ferries are 'not to be feared' – as long as your vessel and crew are properly prepared.
---
Tags