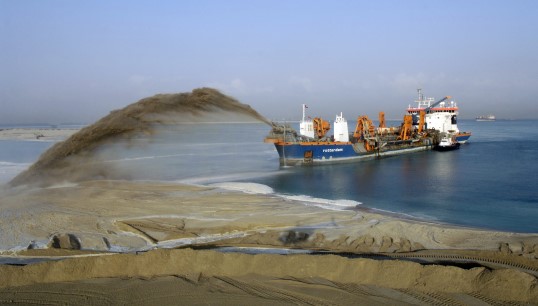 After several rounds of negotiations, FNV Waterbouw – a part of Nautilus's Netherlands branch that focuses on the dredging sector – and CNV have agreed a new collective bargaining agreement with companies that employ hydraulic engineers. Linde de Visser reports
Entering negotiations
The aims for the CBA negotiations were based on the outcome of a member survey. Many different areas were brought up, but the following resonated most:
• Improved income
• Early retirement
• Work-life balance
What was Achieved?
Salary increases
One sticking point in the negotiations was the wage offer of 3.5% from employers, which was eventually negotiated up to 3.75%. In addition to this structural salary increase, backdated to 1 April 2022 for a term of 1 year, employees can look forward to a one-off payment of 150 euros on 1 October 2022.
Early retirement
More and more employees are concerned about whether they will be able to enjoy their retirement in good health. The CBA now includes the option to stop working three years earlier than the state pension age. This will also apply to employees who work abroad.
Work-life balance
Workers are increasingly interested in taking extra leave in certain situations, for example to spend time with their young children.
A work-life balance scheme has been agreed with a savings scheme. It will look at expanding and adapting existing leave facilities and at other instruments that can be used to promote work-life balance. This provision isn't aimed at any specific age-group, as work-life balance is always important.
Temporary to permanent employment
If a temporary employee works on a full-time, structured basis, they will be made an offer of permanent work by the employer, providing they prove suitable for the job.
Preparing for the future
Improvements in these areas will help make the sector attractive for existing and potential employees. However, the survey showed that members are already experiencing the effects of a labour shortage. That is why, during the CBA negotiations, FNV Waterbouw looked towards a future in which an influx of young people will be required.
To get more young people into the sector, employers will now try to offer as many internships as possible on dredgers. Previously It was not easy to secure an internship, which pushed many young people away from this career path.
---
Tags