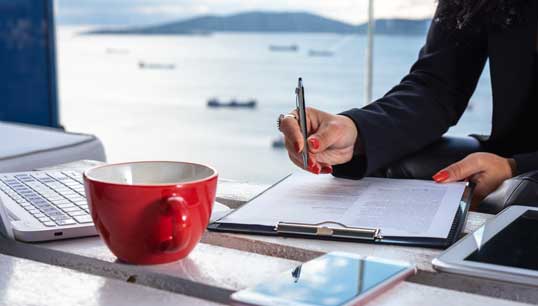 Nautilus's yacht team is still dealing with a common problem in the yacht industry – crew who have not seen or signed a contract before they go onboard. Laura Molineux reports.
Why does it matter?
Nobody should start work without knowing what they are expected to do and what they will get in return.
If you don't sign a contract/seafarers employment agreement (SEA) and receive and retain a copy, you are relying on your employer to honour their promises. This is a bad position to be in if – or when – they don't live up to their end of the bargain on pay, conditions, or other issues such as repatriation, accrued leave and termination.
It means that the flag state is less likely to be responsive to any complaints you have, and that Nautilus may not be able to represent you as effectively.
Contract tips
Don't fly to a vessel unless you've seen the contract first and agreed to the terms and conditions! After investing your time and money in getting to a job, you might be tempted to accept it even if you shouldn't.
If the yacht is commercial (for charter) and/or voluntarily compliant with the Maritime Labour Convention (MLC) then your contract must meet the minimum MLC requirements. The MLC lays out your rights on everything from shore leave to medical care.
If it is a private yacht that is not MLC compliant, you should check carefully to ensure that you are happy to accept the terms and conditions before you sign
Private yacht contracts: what to look for
the start date (and end date, if fixed term)
the capacity in which you are employed (deck hand, chef, etc.)
the salary
the probation period (if applicable)
the notice period you and the employer are required to give (and whether this is affected by any probation period)
the paid annual leave entitlement and public holidays
the place of work (ship's flag, name, etc.)
your details (place of residence, place of repatriation, name, etc.)
hours of work and rest (preferably a minimum of 10 hours rest in any 24-hour period. This is the MLC requirement and good practice to avoid fatigue)
circumstances when employment may be terminated
health and social security benefits
repatriation rights
disciplinary rules and procedures (unless specified in a separate employment handbook)
For further information, find our full guide on the Nautilus Yacht Hub
---
Tags