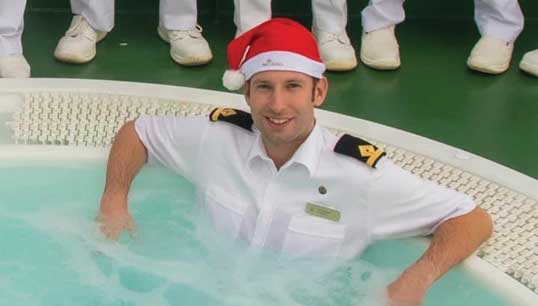 Christmas is coming, and as usual, many seafarers are resigned to being away from their loved ones. But how will the festive season change under the shadow of Covid-19? Ben Powell finds out
While most people look forward to several days or even weeks away from work during the festive period, the seafarers who deliver many of the gifts under the tree will continue to work as normal. Many will be thousands of miles away from their families and loved ones, which can be extremely challenging for those who have children at home.
But while business as usual continues onboard, that does not mean that Christmas goes unnoted. From parties on cruise ships in the Caribbean to BBQs on offshore oil vessels, it is still possible for seafarers to have an enjoyable Christmas.
Given the Covid-19 pandemic and the related crew change crisis, though, can that hold true this year? We caught up with some of the Nautilus Champions and asked them to send some snaps of what they'd usually be doing, and whether their festive plans have changed.
From theatre shows to an empty vessel
Cruise ship third officer Ross Cleland was expecting to spend Christmas this year 'somewhere exotic' alongside a full complement of 1,000 crew and more than 2,000 passengers. 'The ship would be decorated, and there's usually a whole host of entertainers, theatre shows and food choices,' he said.
But this year will be very different, with Christmas being spent alongside a skeleton crew of around 100 on an undecorated ship off a decidedly more chilly British coast. While the occasion will not go unmarked, it will certainly not be the grand festive occasion that would have been expected.
According to Mr Cleland, this changes the way that he feels about working away from home: 'I understand it's my job, and therefore the territory means that I'll be away from my loved ones during these festive periods but yes, it's difficult when my job isn't fulfilled by the hustle and bustle that usually goes on being on a cruise ship.
'It feels as if the life and soul of the ship is missing at the moment, so it'll make being away for Christmas and New Year that little bit harder this year,' he added. 'Cruise ships are stripped of their life and are just ghost ships this year. Things are so different.'
An unexpected Christmas at home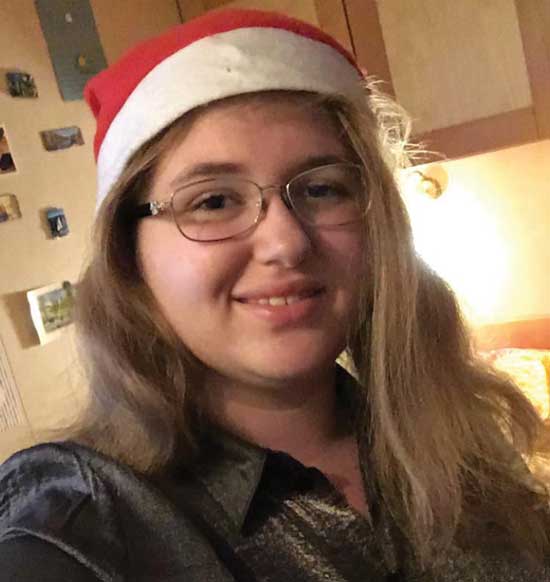 Two years ago, Dutch cadet Petra van den Corput had an 'incredible' Christmas to remember off the coast of Bermeo, northern Spain, and was planning to be away from her family again this year.
However, just as contract extensions can sometimes lead to seafarers having to unexpectedly spend Christmas away from their loved ones, this year Ms Van den Corput has benefited from a change in plans.
Rather than spending Christmas in a far-flung location many miles from home, this year she is looking forward to a quiet Christmas with her family in the Netherlands.
Preparing a festive feast in a tiny tug galley
This time last year, tug AB Emily Reeves spent a relaxing Christmas at home, but this year could be an altogether more stressful experience.
She will be on cooking duties for six, and tells us she will be 'trying not to give the rest of the crew food poisoning or setting fire to the tiny galley on the tug!'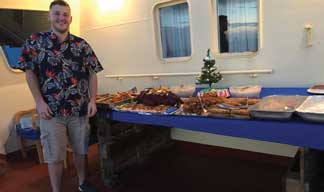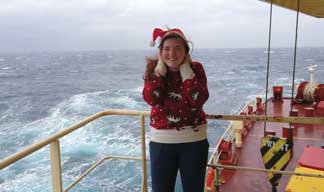 Turkey from the galley and BBQ pork
Christmas plans have also been turned on their head for offshore support vessel deck officer Oliver Wingfield, who was originally planning to be at home with the family but is now away with work. 'Delays in crew changes and a change of vessel have meant not going back until a month later than planned, meaning I won't be back home for Christmas.'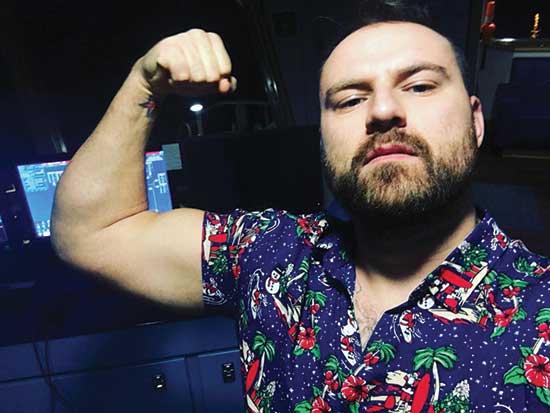 The unexpected change meant that the family Christmas will have to be moved to November: 'At home this year we are having a mini Christmas, which is what we usually do when I know I will be away. A small exchange of gifts and dinner although obviously this year we won't be able to have the whole family around, which is a shame.'
Despite the difficulties, Mr Wingfield is determined to make the best of the situation and to enjoy a memorable Christmas onboard: 'This year will obviously be different, but I try and bring as much cheer as possible. As I generally work in hot countries, Christmas jumpers don't make much sense, so I have a Santa T-shirt ready to take with me this year.'
The food will also be more exotic than the usual festive fare: 'Christmas dinner is usually a mix of Asian and western food. Turkey from the galley and a pig roasted on a BBQ if we are outside of the 500m zone, along with fried rice, noodles, shellfish and desserts in the double digits.'
---
Tags