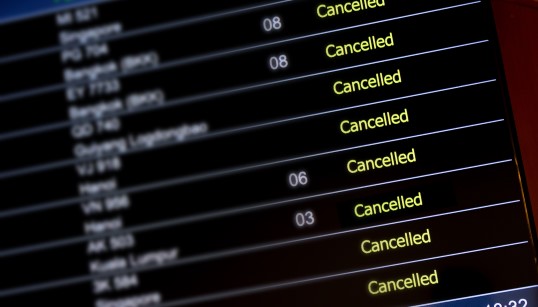 Travel management companies have helped seafarers stranded in the crew change crisis get to work and home to their families. Rob Coston talks to Melanie Quinn of Clyde Travel Management and Tanya Wells of Marine Travel, two agencies that are part of the Focus Travel Partnership business travel consortium, to get an agency overview of the situation
Seafarers have suffered immensely during the crew change crisis. While ship management companies are usually the first port of call for those who are trapped, they in turn often rely on travel management companies to put in the work and ensure journeys go ahead.
These businesses have needed to quickly adapt to the Covid-19 world, according to Melanie Quinn, head of sales and customer relations at Clyde Travel Management, which specialises in the maritime, offshore and renewables sectors. Yet earlier experiences did prepare them somewhat for this new challenge.
'Early in the pandemic we implemented new technology and processes,' she says. 'Our colleagues are skilled professionals, with a deep understanding of crew change logistics. Due to their experience, they are used to dealing with adverse situations like the ash cloud of 2010. Whilst the pandemic has been a global issue over a prolonged period, they are resilient and creative and have used their expertise to facilitate crew changes.'
Marine Travel reservations manager Tanya Wells says that a whole range of challenges have made the job more difficult, including working from home – which means skilled colleagues are not there to help come up with solutions to travel difficulties – and even redundancies at the firm because part of the its business came from cruise ship refits, which have stopped.
On top of this, changing travel restrictions have made the day-to-day work more difficult; coming up with new arrangements for crews from different countries, rerouting crews around nations with restrictions against seafarers, and finding flights to different airports when routes are completely shut down.
'Our work has become very Europe-centric,' says Ms Wells. 'Basically, there's no long haul going on – we used to deal with a lot of Filipino crew but I can count on one hand the number of Filipinos we've worked with recently. We've been arranging travel for Poles, Latvian, Lithuanians – not many Russians as it has been really difficult to get them in and out of Russia.
'Getting crew to and from superyachts has been a complete minefield as they are often from South Africa, Australia and New Zealand. With South Africa, for example, one minute there would be lots of flights but when the crew went to fly the restrictions would have changed or there wouldn't have been enough takeup, and the flights would be cancelled.'
Ms Quinn says: 'Throughout the pandemic we have collaborated with our customers to plan and facilitate crew changes wherever it has been possible. Planning together has been crucial, as availability has been scarce periodically in all markets, depending on what restrictions have been in place. Due to collaboration with customers we have been able to achieve much success. On the weekend of 19 Dec 2020, many nations, including the UK, enforced restrictions without exemptions for seafarers. It was untimely for planned pre-Christmas crew changes, however it was short-lived and we were able to repatriate the crews in time for Christmas.'
'It's so difficult to turn around to somebody and say "there's nothing I can do". I've felt on numerous occasions that they don't believe you're working hard to help them, but the truth is that we try in every way, shape and form to get them where they need to go Tanya Wells, Marine Travel reservations manager
Flights are not the only challenge for agents – all kinds of arrangements must be changed at the last minute. Ms Wells continues:
'Before the most recent restrictions came in, we had one hotel at Heathrow we were using a lot for seafarers. Then it shut down for six weeks because we were their only trade and we had to find somewhere new.'
Mental health impact
Then then there's the mental impact of trying to help seafarers who are in such frustrating situations.
'It's so difficult to turn around to somebody and say "there's nothing I can do, I can't get you where you want to go,"' says Ms Wells. 'That's hard to hear when you're stuck – even for people on a luxury superyacht, they just want to get home in the end – and it's so difficult when there's no definite end date you can give them. Even when I see flights, I cannot 100% guarantee that crew can travel – I always reiterate that I can book you on that flight but can't guarantee you'll fly.
'I felt on numerous occasions that they don't believe you're working hard to help them – but the truth is that we try in every way, shape and form to get them where they need to go,' says Ms Wells.
Hotel quarantine
Now the focus of some firms, including Clyde Travel Management, has turned to the new set of restrictions around enforced hotel stays for seafarers returning to the UK who are on the country's red list.
'The introduction of quarantine without exemptions continues to be lobbied by the Business Travel Association (BTA) on behalf of members like Clyde and our keyworker customers. For customers it means an extended period of isolation and there are concerns over the impact on the wellbeing of seafarers,' says Ms Quinn.
Yet both Ms Quinn and Ms Wells agree that there is now light at the end of the tunnel, with signs that restrictions will be eased.
'The vaccination programme and testing are the route out of this situation,' says Ms Quinn. 'IATA have introduced a Travel Pass to provide secure electronic management of required health certification, which will make travel easier in the future. Airlines, hoteliers, and car rental firms have invested heavily in Covid protocols to ensure safe travel for passenger. Qatar airways has opened a dedicated crew lounge in Doha in recognition of seafarers. The entire supply chain in travel has prepared itself for the increased complexities of travelling now and in the future – we now wait for government to ease restrictions when safe to do so and continue to lobby on behalf of seafarers for exemption.'
Ms Wells says: 'The companies that have kept working throughout the pandemic will continue to do so.There's a little bit of movement on cruise refits – one of the companies we deal with is now trying to get their Filipino crew over. Some cruise companies have said they'll reopen, but only if people are vaccinated before they get on – the UK is doing fairly well but you can't populate every cruise ship with just Brits. So there's a chink of light. I think after June it'll be a good 18 months until we are back where we used to be.
'But then, so much has changed. For example, one firm we work with began chartering their own aircraft to get crew home all at once, instead of a few at a time. I've chatted to them and they don't know whether they will ever return to the old way of doing things.
'Nothing will be the same – sometimes the changes will be good, sometimes not. My philosophy is that we've got this far, we've kept calm and carried on, and we'll come out the other side. I just hope that those in the industry remember the positive things that have happened – the way we have helped each other out and the support people have shown for each other.'
---
Tags