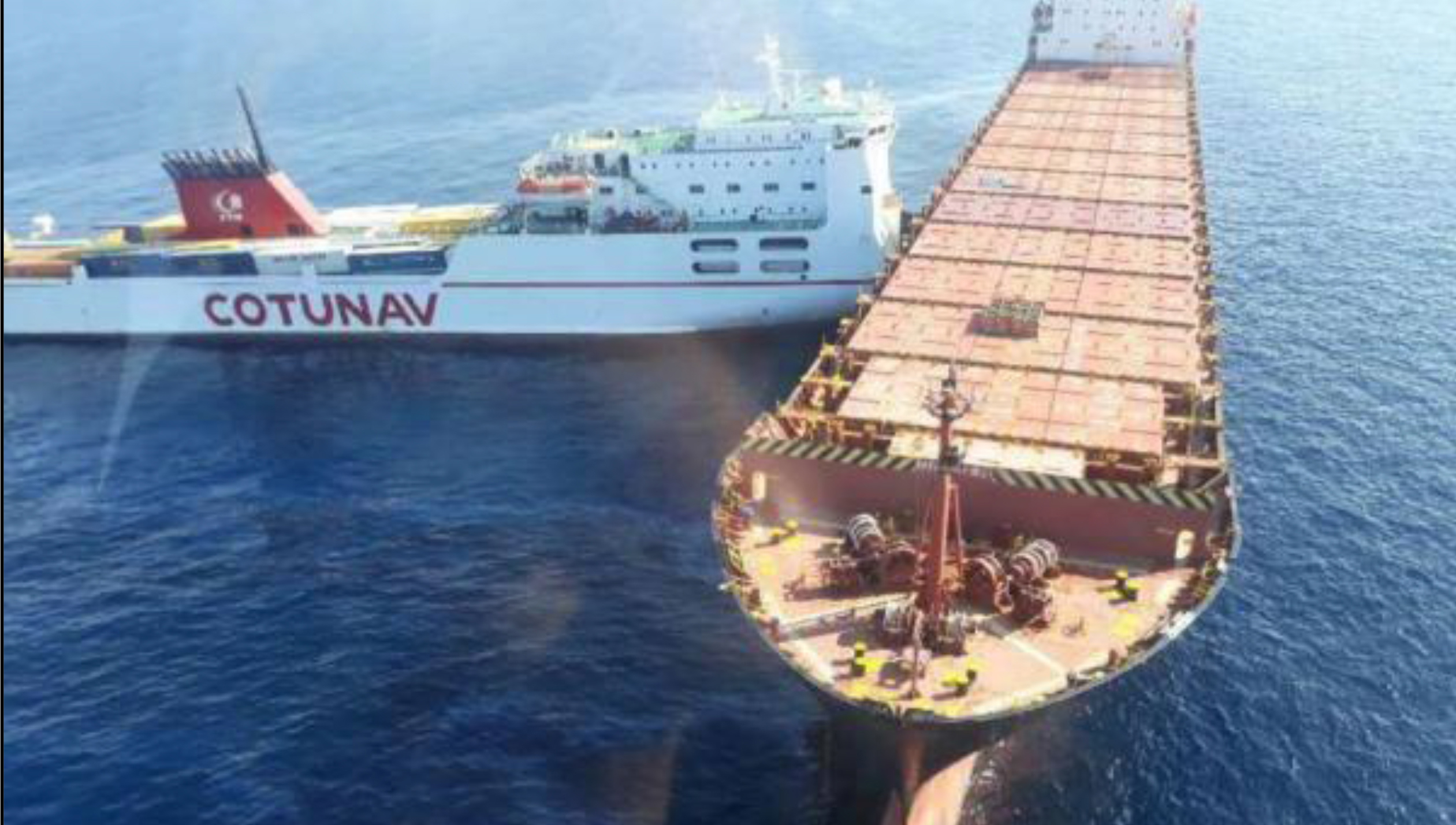 Officers using their mobile phones while on watch have been blamed for an incident in which a ferry crashed into an anchored containership in the Mediterranean, an investigation has ruled.
The Tunisian-flagged ro-ro Ulysse struck the 54,592gt containership CSL Virginia amidships while sailing at 19 knots off the coast of Corsica during a regular voyage between Genoa and Tunis in October last year.
A major clean-up operation had to be mounted to deal with spilled fuel oil and it took five days to separate the two ships.
A report published in July by the French investigation body BEAMer says accumulated fatigue and family and personal worries experienced by the ferry's watchkeeper may also have been a factor in the accident.
Investigators found the that officer – who was alone on the bridge at the time – had been seated in a chair with limited visibility ahead. He had been 'kept busy with personal communication' on his mobile phone before going to the chart table – behind closed curtains – to fill in the logbook and plot a point on the chart only seven minutes before the collision.
The investigation also revealed that one of the two pairs of binoculars on the ferry's bridge were defective and the ship's X-band radar was out of use.
CSL Virginia had its deck lights lit and had been detected by the ferry's radar more than an hour before the accident, the report notes.
The ferry's watchkeeping officer had failed to carry out any visual or radar assessment before allowing a lookout to go below to carry out safety checks, it adds. Although he had spotted CSL Virginia on the ECDIS, he had assumed the other ship was crossing ahead and was not a danger.
BEAMer said it had not ruled out the 'very plausible' explanation that the officer had fallen asleep, even though he testified that he was awake when the collision occurred.

Investigators said the officer had been serving onboard the ferry for five months at the time of the accident. 'Considering the pace onboard ferries, and the lack of information about his paid-off date, family tensions could have led him to complacency and cause a lack of involvement in his function during watch,' the report notes.
CSL Virginia's radar had been set with a one nautical mile guard zone. But because it was on standby at the time, no warning had been sounded.
Investigations revealed during its 13 days at anchor, the vessel had experienced several close-quarters situations, with a number of ships passing it at less than 0.3nm. However, the report points out, these potentially dangerous situations had not been noticed by its master.
The report says CSL Virginia's lookout was 'inappropriate' for the traffic conditions in the 'unwise' anchoring area and its master had also been on a personal mobile phone call less than a quarter of an hour before the collision.

BEAMer criticised the poor safety culture within the Tunisian ferry company, but said the collision was the direct consequence of human issues. 'A boredom factor, related to the length of sea-going periods, has certainly had an effect on the involvement of the officers of the watch onboard both vessels,' the report concludes. 'Onboard both vessels, the use of mobile phone for personal concerns took precedence over the officer of the watch duties, leading to a lack of surface situation monitoring.'
---
Tags