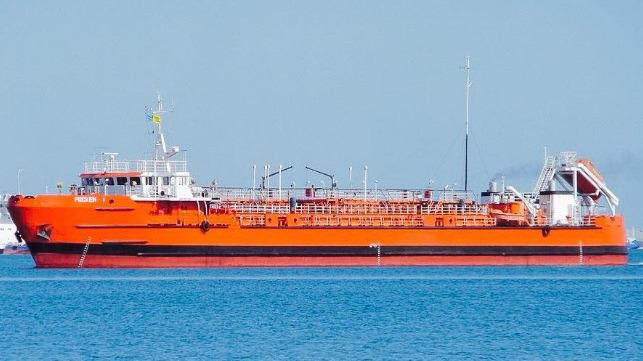 Nautilus/ITF inspector Paul Keenan came to the aid this year of the crew of a Russian-flagged ship who had almost run out of food and water.
He liaised with the Maritime & Coastguard Agency and agents in the port of Immingham after discovering that seafarers on the 2,821dwt tanker Tecoil Polaris were owed wages and had almost no food or drinking water.
'The ship received provisions and fresh drinking water within 48 hours, and the crew received outstanding wages of just under $14,000,' Mr Keenan said. 'All crew were repatriated, although they again contacted the ITF from Amsterdam airport to say they had not yet received their final wages. They received their salary on their return to Russia.'
The ship was detained after an inspection found 27 deficiencies including false hours of work and rest records, an inoperative gyro compass, and unsafe pilot transfer arrangements.
Mr Keenan is also supporting seafarers on the Iceland-flagged survey ship Poseidon, after receiving complaints of unpaid wages. The 1,412gt vessel was detained in Hull in July 2018. He has been liaising with the Icelandic ITF inspector and maritime union to secure the payment of $42,000 in owed wages for the non-Icelandic crew.
'The Icelandic crew were employed through a crewing company in the Faroe Islands, and despite that employer going bankrupt, they do not have the same facility to get their unpaid wages.'
Mr Keenan has also been involved with the Togo-flagged Aressa, detained in the port of Goole after an inspection revealed 23 deficiencies, including an invalid minimum safe manning document, a missing declaration of Maritime Labour Convention (MLC) compliance, missing procedure for complaints under MLC, and deficient seafarer employment agreements.
There were numerous breaches of the MLC, noted the inspector: insufficient information in the SEAs, no overtime payments, an AB on €600 plus €100 per month bonus, when the guideline in the MLC is $1,028 per month. Two seafarers were on expired contracts, and two contracts with no length of tour of duty. He recovered a total of $18,400 in wages.
---
Tags