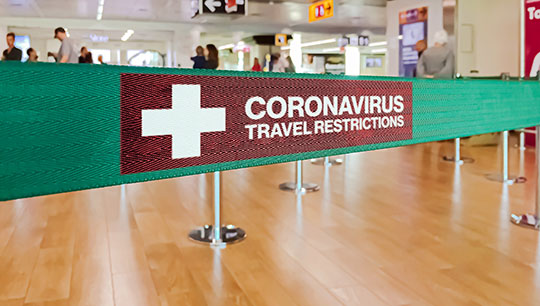 Nautilus is warning members seeking to join vessels in continental Europe that they may face disruptions caused by travel restrictions and border closures imposed by several European countries from midnight on Sunday.
Members transiting these countries could also be delayed, the Union warned.
Passenger flights from the UK have been banned for the next 48-hours by 17 European countries.
There is some exemptions for cargo, repatriation, ambulance, service and positioning flights, and medical flights in some countries.
Rail travel from the UK has also been affected, with Eurostar journeys to France and Belgium halted.
Members should check with their employer before travelling to join vessels, Nautilus said.
France has banned all passenger and freight ferry traffic from the UK until 23 December, with the exemption of unaccompanied freight.
Ireland has also banned all passenger ferry traffic, and exempted cargo-only ferry traffic.

A spokesperson for Maritime Minister Robert Courts told Nautilus that whereas some countries have made exemptions for hauliers and other key workers, others like France have taken a more blanket approach to the restrictions.
'Seafarers on vessels should be fine but with commercial flights halting transit to join vessels may prove trickier,' the spokesperson confirmed.
The Directorate-General for Mobility and Transport (DG MOVE), which is responsible for transport within the European Union, urged member states on Monday to continue to apply the Green Lanes principles agreed in March 2020.
These principles set out freight guidelines to keep supplies of essential goods flowing as borders shut to prevent the spread of coronavirus.
'There is no justification for suspension of air, rail or road freight or for closures of ports, airports or land borders,' DG Move said.
'Disproportionate actions may have a damaging effect to supply chains and risk public confidence in supply of foodstuffs, medicines, vaccines etc.
'Moreover… ferries, especially roll-on-roll-off ferry traffic, are essential for goods transport between the EU and the UK. More than two thirds of trucks deliver goods to and from the UK this way. It is therefore crucial that these connections are not suspended, but that they just cease operating their passenger section while continuing to carry freight.'
Members seeking further information should check the Nautilus Coronavirus FAQs.
Travel advice for England, Scotland, Wales and Northern Ireland can be found here.
---
Tags