Education and training
Shipowners urged to use bespoke seafarers' mental health and wellbeing standard
26 May 2021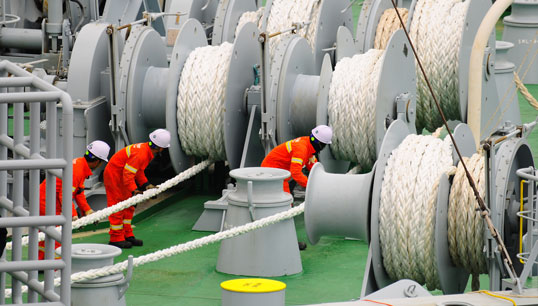 Shipping companies have been urged by maritime charities to make sure that any training they offer on mental health and wellbeing awareness meets the standards set out in a bespoke good practice guide.
The Seafarers' Mental Health and Wellbeing Awareness Training Standard was created by the Maritime Charities Group (MCG) and published by the Merchant Navy Training Board (MNTB) in 2020. Aimed at buyers of training courses as well as potential participants, it was written by experts from the maritime and education sectors.
The organisations shared their lessons learnt about creating mental health and wellbeing awareness training for seafarers at the 1st Global Conference for Seafarer Mental Health and Wellbeing, organised by the Institute of Marine Engineering, Science and Technology (IMarEST).
MCG chair Commander Graham Hockley said: 'The incidence of poor mental health amongst seafarers is a long-standing problem but the Covid-19 crisis has made the situation so much worse. We hope that by presenting to IMarEST delegates we will be able to show shipowners, training commissioners and training providers why they need to adopt the Standard and the difference it can make to the health and wellbeing of their crew. Now more than ever we need shipping companies to provide relevant, high quality mental health and wellbeing awareness training and our Standard helps them to do just that."
The Merchant Navy Welfare Board (MNWB), a training course provider to over 40 constituent maritime welfare organisations, has adopted the Standard for their mental health awareness training courses. Since December last year MNWB have run nine courses and trained 85 participants.
The incidence of poor mental health amongst seafarers is a long-standing problem but the Covid-19 crisis has made the situation so much worse. MCG chair Commander Graham Hockley
MNWB welfare and training manager Helen van Gass said: 'The demand for training in mental health and wellbeing awareness has been huge, especially since Covid. Ship visitors, chaplains and others in the sector are just desperate to help. They're the ones dealing face to face with seafarers, and they need to have the skills to spot problems quickly and know how to help.'
'The Standard has made it so much easier for us as commissioners of training. We used it as our guide at every stage of the development of the course. We went through it with the trainer at the start and again as the course developed. We wanted to be sure the Standard was being met, we wanted our training to be relevant and we wanted to meet the standards of excellence that the Standard provides.'
---
Tags