Health and safety
Ship manager urged to offer psychological support for crew following suspected suicide
18 August 2021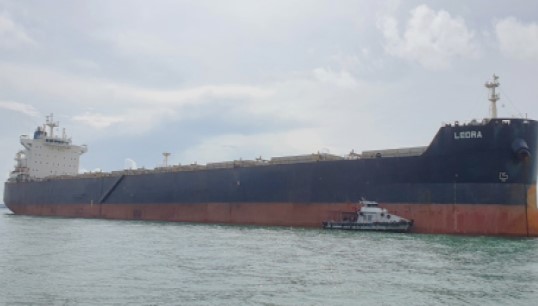 A ship management company has been urged to offer online psychological support sessions for seafarers following an investigation into a possible case of suicide onboard a bulk carrier.
A Filipino rating was reported missing when he failed to report for duty at 0800hrs on 6 July last year while the 83,987 dwt Cyprus-flagged bulk carrier Ledra was sailing from the Chinese port of Huanghua to Singapore.
An investigation into the death concluded that it was very unlikely the AB – who had been serving on the ship since August 2019 – had accidentally fallen from the vessel, although no evidence such as a letter had been found to indicate that he had taken his own life.
Investigators said the rating was 'by nature a quiet person and did not spend much time with the other crew members, however having no socialisation problem with them'.
But, they noted, the seafarer started going to his cabin alone during coffee breaks about a month before he went missing and during the evenings he had stopped going to the crew's smoking room for socialising or watching a movie.
The AB had complained of sleeping problems around this time, but officers turned down his request to be given a sleeping tablet. He was twice allowed to take time off to sleep after reporting that he was too tired to be on duty.
Investigators said that the seafarer 'may have been depressed for his own reasons' and his age and seagoing experience made it unlikely that he had accidentally fallen over the 1.03m high ship rails.
The flag state report on the incident recommends that the ship's management company should provide 'ad hoc support sessions to crew members with a psychologist over Skype or another platform'. This would help to 'protect crew members who face extreme challenges even without a global crisis and are increasingly experiencing stress, depression and anxiety', the report adds. 'Psychologists can help people learn to cope with stressful situations,' it points out.
The report also reveals problems with the search and rescue (SAR) response to the rating's loss. Because of a 'misjudgement' by the master, the ship was not turned around onto a reciprocal course to look for the man but instead continued to Singapore.
Investigators found that the master had considered it 'futile' to turn the ship to search for the crewman. However, the report notes that the sea temperature was between 25˚C to 26˚C at the time, which would have made a search worthwhile.
The master initially contacted the management company to report the AB's disappearance. Shore staff advised him to contact the nearest Maritime Rescue Coordination Centre (MRCC) – but it took two hours to receive a response from the Malaysia MRCC and it was not until six hours after the seafarer was noted missing that the Singapore MRCC broadcasted an Enhanced Group Calling (EGC) alert for the area.
'No man overboard distress alert was sent to the nearest MRCC,' the report states. 'Instead, precious time was lost from 0930hrs to 1130hrs in trying to establish contact with the MRCCs in the region over the phone. Had the master sent a distress alert, instead of trying to establish contact over the phone, the MRCCs in the region would have been alerted.'
---
Tags