Campaigning
Shift in public's attitude to seafarers picked up in second Maritime Barometer survey
7 December 2022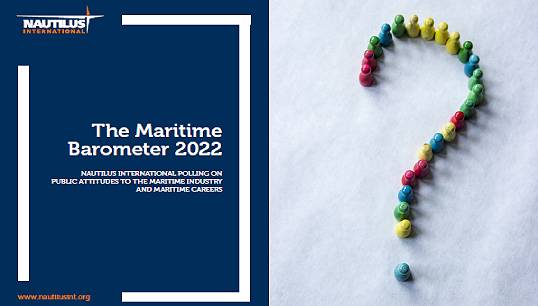 To celebrate the vibrancy of the maritime industry, Nautilus International commissioned a second survey of 2,000 UK residents in July 2022. The Maritime Barometer intends to raise awareness of seafarers' critical role and ensure they experience fairness in their jobs and careers.
The 2022 Maritime Barometer report reflects a shift in people's attitudes and knowledge of the maritime sector since the previous survey conducted in 2021. The impact of Brexit, supply chain constraints and the March 2022 P&O Ferries scandal – which saw the sacking of nearly 800 British maritime workers – all had an impact.
'Sea blindness'
While there is still a significant underappreciation of the maritime industry and general ignorance about it – known as 'sea blindness' in the maritime lexicon – the wheel is slowlyturning. The amount of media exposure generated by Brexit trade barriers, the resultant supply chain disruptions, and,more recently, the P&O Ferries scandal, have raised the level of public consciousness.
The 2022 report shows that people are becoming more educated and can be mobilised by issues affecting the sector.
However, the extent of sea blindness in the UK is still high, with just one in a thousand people (0.1% of respondents) knowing that more than 90% of imports to the country arrive by sea. Instead, people believe that only just over half of these goods (52%) enter the UK's ports via ship. This figure is slightly up from 2021, when respondents thought that 48% of goods come to the UK via ship.
Out of several household goods,the only item that more than half the respondents identified as arriving in the UK predominantly by sea was bananas (63%). Fewer than half of all adults believe that oil/petrol (46%),t-shirts (41%), games consoles (40%)and medicines (37%) predominantly arrive on these shores by sea, with more than a fifth (22%) having no idea how many imports arrive by sea. That lack of awareness emphasises just how 'out of sight and out of mind' the maritime sector is when it comes to its critical role within the nation's supply chain.
As many as 40% of respondents don't know where their nearest port is. More than half cannot identify the UK's maritime flag as the red ensign, which most UK registered vessels must display during daylight hours.
More encouragingly, three in 10 people (29%) now believe that seafarers should have key worker status, an 8% increase from the 21% reported in the 2021 research, likely motivated by the increase in media attention of Brexit-related supply chain issues and the P&O Ferries scandal over the past 12 months.
Careers at sea
The decline in popularity of seafaring as a career in the UK seems to have been stemmed for now, with 16% of people indicating they would consider a career at sea compared with just 5% a year ago. Men (22%) reported to be more interested in a career at sea compared with 9% of women, emphasising that work still needs to be done to make a maritime career a more attractive option for women.
The principal reasons why people would be interested in a career at sea – and at an increased level since 2021 – were found to be that it is an exciting career and offers opportunities to travel (44%),whilst there are a variety of career options (37%), as well as good career progression (34%). It is encouraging to see that recent efforts to promote careers in maritime appear to have had a positive impact on the number of individuals willing to work at sea,despite the high-profile instances of exploitation in the past year.
Promoting sustainable jobs
Despite a small shift to more awareness of the maritime industry in 2022, there is clearly still work to be done to ensure a consistent and communal change in attitude and a greater understanding. This is a situation the industry can ill afford since the retention of skilled and experienced professionals in the maritime workforce is more critical than ever.
Nautilus will continue to promote good quality, sustainable jobs within the maritime industry.
29% of respondents believe that seafarers deserve key worker status, up from 21% the previous year The Maritime Barometer Report (November 2022)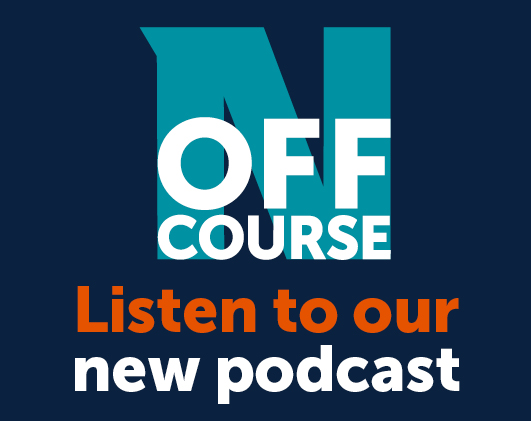 Nautilus podcast Off course
As part of the campaign to combat sea-blindness Nautilus has launched a new podcast series Off course: A sideways look at life at sea. The podcast covers exceptional stories from life at sea from the truth about sea-sickness to the stories of those who have been captured by pirates, women advocating for greater gender representation in the industry, and much more. Download and listen to the podcast across most audio platforms including Soundcloud, Apple and Spotify.
Image: Nautilus International
Nautilus podcasts series Off course
Read The 2022 Maritime Barometer
---
Tags