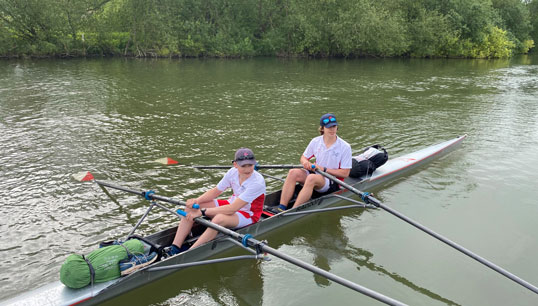 Two UK students have raised over £2,500 for the Sea Cadets' 'On the Water' programme by rowing 155km through 35 locks along the Thames river.
George Bell and Sebastien Codet rowed for over six hours a day for three consecutive days along the Thames, from Radley College in Oxfordshire to Barnes Bridge in London. The pair smashed their fundraising objective by 168%.
They said that they 'experienced all types of weather imaginable' during their three-day challenge.
'We are raising money for the Sea Cadets because we believe that the charity gives amazing opportunities to young people in the most deprived parts of the UK,' said Mr Bell.
On The Water provides thousands of young people, aged 10 to 14 years, from low-income communities the chance to experience waterborne adventure and earn qualifications. First piloted in London in 2019, this year it has expanded to include Birmingham and Liverpool, and Sea Cadets hopes to offer 400 children this opportunity over the summer of 2021. Sea Cadets is linked to the Marine Society.
---
Tags