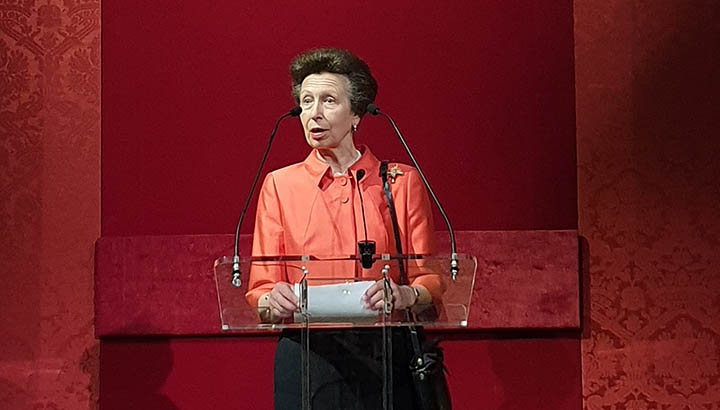 HRH The Princess Royal gave an impassioned speech to maritime leaders at an event for London International Shipping Week (LISW), calling on them to remember that seafarers are at the heart of global trade and that basic seafaring skills should not be lost in the race to digitisation.
'The way we treat our seafarers is incredibly important,' she said. 'If we want trade to travel then we need our seafarers, and the ships they sail in, to be as good as they can be.'
The Princess praised the way seafarers had adopted new technology in the past, stating that she believed them to be some of the most innovative workers and that skills and training are fundamental if this innovation is to continue.
'I believe that basic seafaring skills are still vitally important. Those who put all their faith in the digital world, good luck to them, but I think you still need a backup.'
Princess Anne is well known for her love of the sailing and the sea and is patron of many maritime organisations. In 2014 she opened the multi-million-pound Trinity House Hub at Nautilus International's Mariners Park Estate in Wallasey.
At the event, held at Banqueting House in London, the Princess Royal also called on the audience to get the message out to the public, especially those who do their shopping online, that their goods don't arrive 'through the ether', but that it is the maritime sector which is responsible for people getting the things they order with the touch of a button.
The new Secretary of State for Transport Grants Shapps MP also spoke at the event and admitted that he had not known much about the sector before becoming the minster but had quickly learnt that the maritime industry had a lot to teach other transport sectors.
'Long before globalisation was a thing for everybody else, the maritime sector was out there, building contacts and buildings links,' he said.
He confirmed that the British government was 'determined' to back the sector regardless of being outside the European Union in the future and that maritime 2050 would ensure that British shipping would remain a world leader.
---