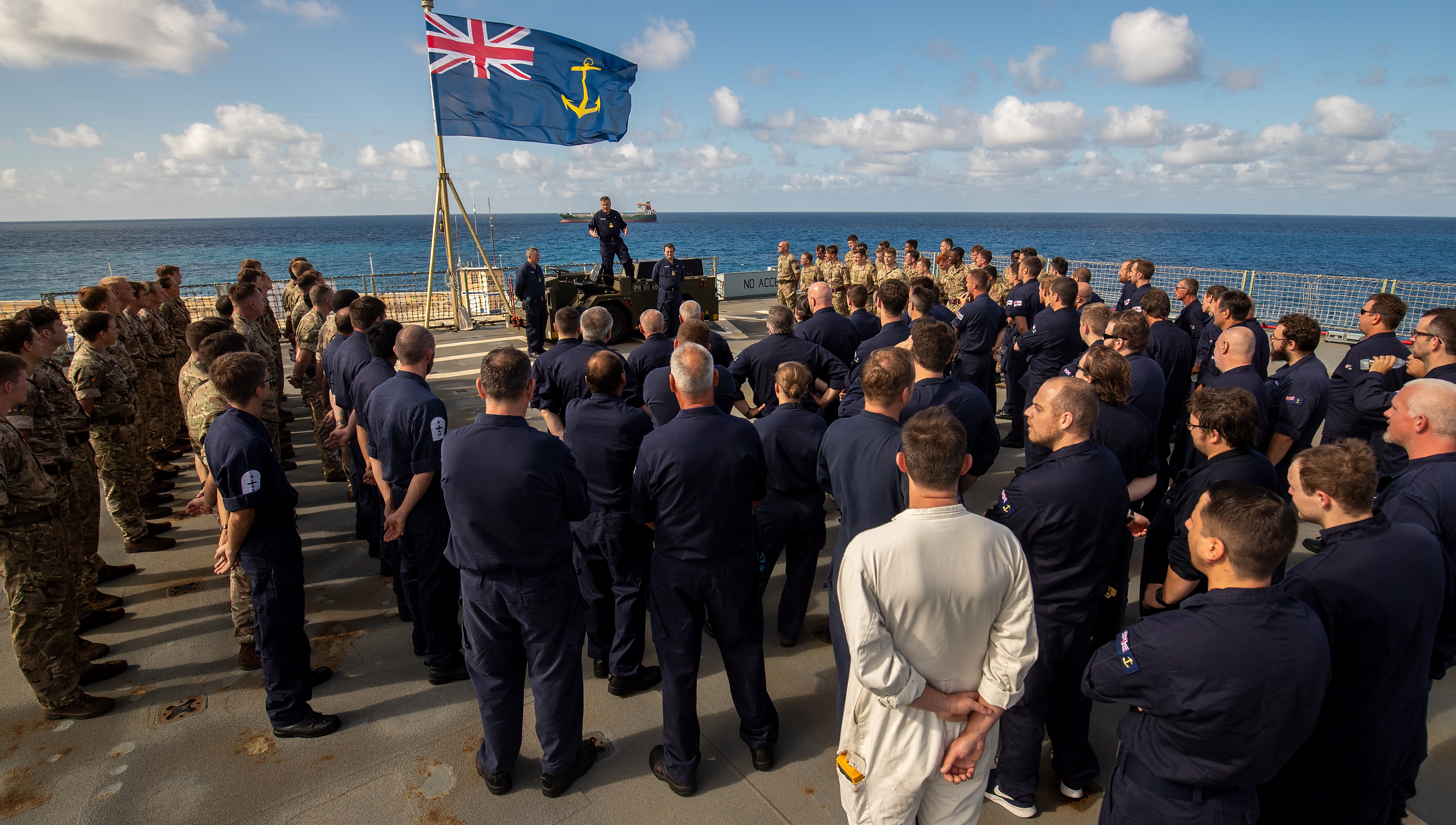 Royal Force Auxiliary (RFA) crew, including Nautilus members, working on amphibious support vessel RFA Mounts Bay in the Bahamas providing aid after hurricane Dorian, have received a personal visit and thanks from their head of service Commodore Duncan Lamb.
Commodore Lamb visited RFA Mounts Bay at Barbados to congratulate and thank the ship's company for their efforts in delivering much needed aid and assistance to the Bahamas after the strongest hurricane on record to make landfall struck the Caribbean in September, with sustained wind speeds of 185 mph.
RFA Mounts Bay was the first ship on the scene to the area after the hurricane had hit - providing much needed assistance and support to the people of Great Abaco.
Nautilus members work in all departments onboard the vessel, and from the top down all ranks and rates were involved in the planning and execution of many of the relief efforts both onboard and ashore.
The amphibious support ship, enhanced by embarked RN Wildcat helicopter, evacuated casualties and delivered over 200 tons of aid, including; 3,000 ration packs; nearly 100 tonnes of water; more than 900 emergency shelter kits and 1,000 hygiene kits to people of the Bahamas. In September the RN Wildcat also rescued a British citizen who had been trapped beneath rubble for several days on Great Abaco Island, according to BBC reports.
The ships company sent aid to nine communities on seven islands over the course of an intense 10-day period of relief operations.
Commodore Lamb praised the ship's company for their efforts and passed on messages of thanks from First Sea Lord, Admiral Tony Radakin and Defence Minister Ben Wallace. 'As Head of Service, I am very proud of the contribution you made to saving life and bringing hope and reassurance in the wake of a life-changing event for the people of the Abaco Islands. You exemplified the strength of a Whole Force approach with RFA, RN, Army, RM and US Coast Guard delivering specialist skills.
'Whilst those ashore found themselves in the glare of international media, mission success was achieved through the commitment of the onboard engineers, catering staff, communicators and Ops teams, who kept ship, helicopter, boats and people fighting fit.'
RFA Mounts Bay has been stationed in the Caribbean since 2017 - providing reassurance and support to the people of the UK Overseas Territories in the area and provide hurricane assistance and disaster response in the event of major devastating incidents.
The RFA, where Nautilus has members, is the largest UK employer of British merchant seafarers. It is a civilian-manned fleet owned by the Ministry of Defence, which provides world-class, cost-effective maritime operational support to the Royal Navy.
---
Tags