International
Private security guards to be allowed on Dutch merchant ships to protect against piracy
9 April 2021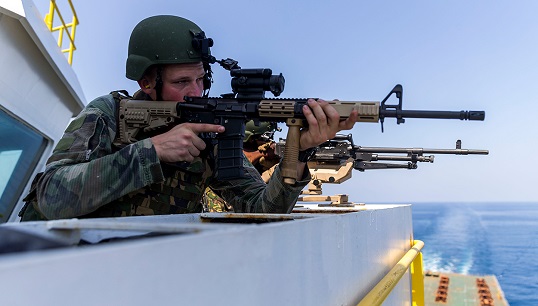 The Dutch Council of Ministers has given its approval to a bill which will allow ship managers to take armed private security guards onboard Dutch merchant ships to protect against piracy in the Gulf of Aden.
Currently merchant ships can request protection by soldiers from a Vessel Protection Detachment (VPD) of the Ministry of Defence under the Merchant Shipping Act (2019).
The Merchant Navy Protection Act, which was put forward by Ferdinand Grapperhaus, minister of justice and security, will amend the 2019 act to allow for armed private security guards to join ships if there is not sufficient space for a VPD team or if picking up a team costs too much time or money.
Maritime security companies that supply these armed guards must have a permit from the Human Environment and Transport Inspectorate (ILT) before they can offer their services to ship managers.
Nautilus International has long lobbied for the use of private security aboard Dutch vessels. In 2016 Nautilus joined with the Royal Association of Dutch Shipowners (KVNR) and 14 other maritime organisations in an open letter to the Dutch Parliament, warning the government about the failures of not allowing private security. This included putting seafarers at an increased risk of attacks by pirates and undermining the Dutch flag.
Alongside the Royal Association of Dutch Shipowners (KVNR) and the Dutch Association of Captains, the Union is calling for the new bill to be rapidly implemented to protect merchant ships, their crew and cargo.
Once the bill is submitted, the text of the bill and the advice of the Council of the State on the bill will be made public.
There is still a lot to be done before ship managers can hire armed guards. Parliament must still give assent to the new act and government ministries need to prepare the appropriate permits for private companies.
The aim is for the new laws and regulation to come into effect on 1 January 2022.
---
Tags