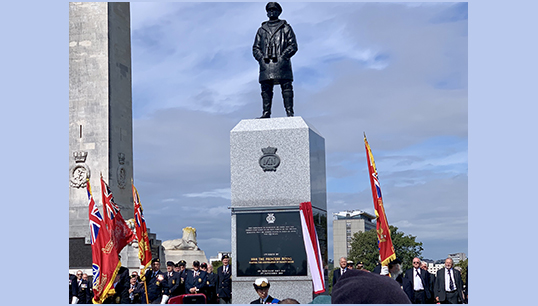 While the UK maritime community's commemoration of Merchant Navy Day on 3 September may be muted due to ongoing pandemic restrictions, Plymouth is still planning to celebrate in style at its Merchant Navy Monument.
It will be the first time the event has been able to be held since the monument on Plymouth Hoe – dedicated to the Merchant Navy and fishing fleets – was unveiled in 2019 by the Master of Trinity House, the Princess Royal.
Captain Paul Willerton, who was secretary/project manager of the committee that had the Plymouth monument built and is presently acting on behalf of the Plymouth branch of the Merchant Navy Association, said: 'Our event will depend to an extent on Plymouth City Council's interpretation of [Prime Minister] Boris Johnson's announcement next Monday – singing might be out for example.'
Subject to amendments, however, the plan is to muster at 10:30 by the monument. The Lord Mayor of Plymouth will arrive at 10:55. There will be a short service of remembrance and a celebration starting at 11:00 followed by the laying of wreaths. Colours will then be paraded by colour-bearers with the parade marshall.
All serving and past seafarers plus their friends and families are welcome to the event. Organisations wishing to lay wreaths should contact paul.willerton@blueyonder.co.uk. Private tributes can be laid on completion of the formal ceremony.
Disabled parking is available on the Hoe. There will be no seating provided, so participants who need it should bring their own chair or wheelchair.
Public ceremonies for the Raise the Red Ensign campaign on Merchant Navy Day, usually held throughout the UK, may also be a bit more muted this year, although local authorities are still encouraged to fly the red ensign. The campaign is organised by The Seafarers' Charity, which this year will launch a special appeal for donations to be made to the Merchant Navy Fund. The Fund is a collaborative initiative set up in 2012 by The Seafarers' Charity and the Merchant Navy Welfare Board to exclusively support UK Merchant Navy seafarers.
Dover District Council which regularly hosts a popular annual event, has advised 'the Chairman will not be organising a formal event for Merchant Navy Day this year', but it is hoped the commemorations will resume in 2022.
The Merchant Navy Association has decided, due to ongoing uncertainty surrounding the coronavirus pandemic, that the annual national service to celebrate Merchant Navy Day usually held at the Merchant Navy War Memorial at Tower Hill in London will not be held in 2021.
---
Tags