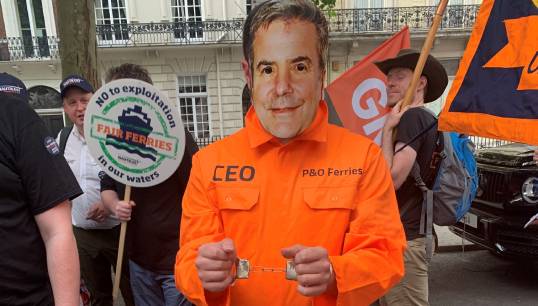 P&O Ferries' CEO Peter Hebblethwaite has been named as the Worst Boss in the World at a gathering of nearly 1,000 trade unionists from around the world.
He was selected at the International Trade Union Convention's (ITUC) World Congress, beating other exploitative employers including Amazon's Jeff Bezos, Starbucks CEO Howard Schultz, and Ahmed bin Saeed Al Maktoum, CEO of Emirates Airline.
'First, Hebblethwaite became Britain's most hated boss when he illegally sacked 786 seafarers. Then he was voted the worst employer in Europe by the Congress of the European Transport Workers' Federation in May,' said ITF General Secretary Stephen Cotton at the ITUC Congress in Melbourne.
'He then had to drop off the panel of an industry event in the US after union pressure and a scathing letter from the chair of the US House Committee on Transportation and Infrastructure called for him to be removed as a panellist.'
'Now Hebblethwaite's disgrace has reached international heights.'
Mr Hebblethwaite is still under investigation by the United Kingdom's Insolvency Service for potential civil violations.
The six bosses shortlisted for World's Worst Boss in 2022 operate companies with business models that exploit workers through low wages and offer insecure jobs that deny people's rights to form and join a union and collectively bargain.
Outgoing ITUC General Secretary, Sharan Burrow, said: 'The global pandemic showed us the greatest act of human solidarity the world has ever seen as workers kept the world moving. It also showed us the greatest acts of corporate greed as unscrupulous CEOs profited from the pandemic, tore up contracts with workers and exposed the deficits of corporate regulation.
'Working people and their unions are demanding a new social contract between governments, workers and business with jobs, wages, rights, equality, inclusion, and social protection. Let's clean up the bad bosses of the world and stop these corporate predators in their tracks. With new national and international legislation, we will hold companies to account. And unions will support the ILO adopting a new Convention to address standards and governance gaps in global supply chains.'
---
Tags