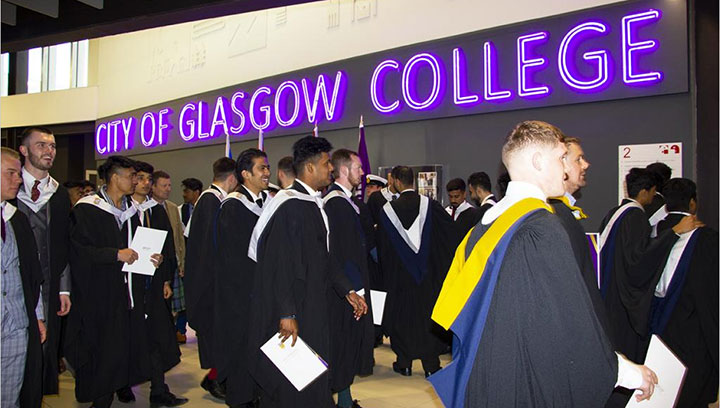 Nautical and marine engineering cadets and officers celebrated their graduation from City of Glasgow College at its annual ceremony in Glasgow Cathedral on Thursday 20 June.
A total of 317 Officers graduated at the ceremony at Scotland's leading nautical college, which is this year celebrating its fiftieth anniversary ceremony.
The graduates included 139 Navigation Officers, 123 Engineering Officers, 31 Chief Mates and 24 Officers of the Watch. They achieved Diplomas and Certificates in Marine Engineering, Marine Management Engineering, Marine Management and Nautical Science.
The college's Principal and Chief Executive, Paul Little, said at the ceremony:
'This year's graduation is particularly significant as we celebrate 50 years of delivering maritime education and training on the banks of the River Clyde. It is an important milestone for us as we continue to support Scotland's role as a world-leading maritime nation.
'Important too is our commitment to bringing more young people into the maritime industry. We need more deck officers and engineers on cruise ships, tankers, offshore and bulk carriers and, of course, the Merchant and Royal Navies. These new graduates are upholding a long tradition and I hope will stay connected with our college as their careers at sea go from strength to strength.'
This year's guest of honour was Michael Matheson MSP, Cabinet Secretary for Transport, Infrastructure and Connectivity, who said:
'I was delighted to be part of this special anniversary ceremony and to join graduates celebrating their achievements, as well as highlighting the important work being done at City of Glasgow College.
'Having a world class nautical training facility in Glasgow promotes and encourages the next generation to consider the many excellent and varied career opportunities available in the industry.
'The Scottish Government is very keen to continue our close working relationship with City of Glasgow College, and the wider maritime sector, to explore further ways of promoting the opportunities available.
'Congratulations go to all the students who graduated and to all the staff who have helped them on their way.'
Originally called the Glasgow College of Nautical Studies (GCNS) it was opened by Admiral of the Fleet Lord Mountbatten in October 1969.
Then in 2010, GCNS merged with Glasgow's Central College and the Metropolitan College, creating the City of Glasgow College, and the multi-million pound Riverside Campus was opened in 2015.
---
Tags