International
Norwegian union vows to protect working conditions as Hurtigruten splits in two
20 October 2020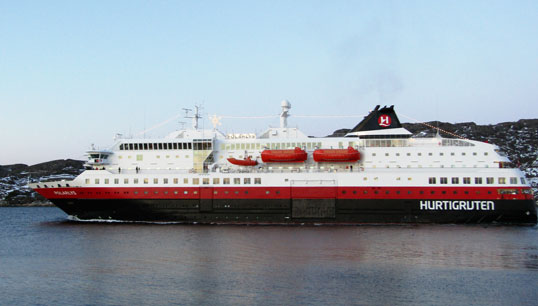 Norwegian Seafarers' Union has vowed to 'work tirelessly' to ensure interests of seafarers working for Hurtigruten are kept at the centre of the discussions as the ferry operator splits its business in two.
The Norwegian ferry firm announced the split in October. One company will manage the traditional passenger ferry network along Norway's coast, while the other will handle the company's expedition cruises. Hurtigruten says the aim is to cut costs and position itself to capture growth once the pandemic is over. There may be job losses.
Norwegian Seafarers' Union director of cruise operations Lena Dyring said: 'We will also continue our fight to ensure the rights for seafarers to have Norwegian working and salary conditions in Norwegian territorial waters, regardless of which company they work for or the flag of the vessel they work on.'
Hurtigruten is still reeling from the scandal of inadequate Covid controls in August in which large number of passengers and crew members became infected on its expedition vessels. The company shut down its expedition cruises along the Norwegian coast after fierce criticism from the authorities.
Hurtigruten CEO Daniel Skjeldam said: '2020 is a tough year for everyone in the travel industry. But the setback is only temporary. For the second half of 2021 and beyond, we are seeing a strong demand across all markets and all destinations, including the Norwegian coast, the Arctic and Antarctica.
'The demand reflects our predictions that expedition cruises, with all our advantages such as smaller ships, more flexibility and fewer guests, will prove even more popular post-Covid-19.'
Hurtigruten's expedition cruise entity will operate a fleet of eight small, custom-built expedition cruise ships. Starting in 2021, Hurtigruten will offer several new itineraries – including new year-round departures from the UK and Germany, as well as Alaska.
According to High North News, the Norwegian transport ministry has requested that the two Hurtigruten ships currently in operation only sail along the coast of northern Norway between Bodø and Kirkenes until further notice. Northern Norway, in areas north of Bodø, are particularly dependent on Hurtigruten for passenger and goods freight, especially in winter when roads are closed.
---
Tags