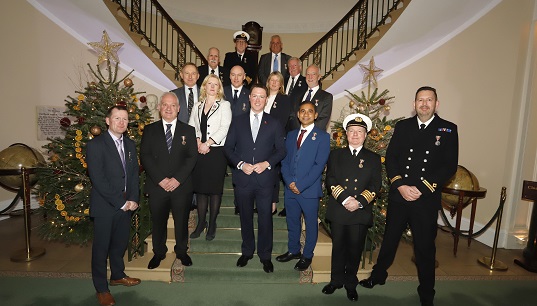 Nautilus members are invited, along with all seafarers, to send in their nominations for a prestigious UK maritime award, the 2022 Merchant Navy Medal for Meritorious Service - a state honour recognising service in maritime.
The Merchant Navy Medal is awarded annually, without bias towards age or rank, to those eligible seafarers who are judged to have made a worthwhile contribution to merchant shipping, its operations, development, personnel, welfare, safety, or who have performed an act of courage afloat.
The state award is administered by the Department for Transport (DfT) through a Royal Warrant signed by the Queen in 2015, while industry liaison is channelled through the Merchant Navy Honours Consultative Committee (MNHCC).
The committee, which comprises a myriad of organisations across the maritime sector, is spearheaded by the Merchant Navy Welfare Board (MNWB), the umbrella charity for the UK Merchant Navy and fishing fleets based in Southampton.
Stuart Rivers, chief executive of the MNWB, which is the umbrella charity for the UK Merchant Navy and fishing fleets, said: 'This is a fantastic opportunity to recognise those many unsung, selfless heroes who always go the extra mile.
'We are blessed to have those so dedicated and loyal to the Merchant Navy, and to be nominated for such an award is a huge honour. It's great to be backing this initiative once again.'
Captain Matthew Easton, long-standing chairman of the MNHCC, said: 'The task in whittling down who will be chosen gets harder every year due to the high pedigree of nominations received.
'And I'm sure this year will be no different. As ever, it is a honour to be part of the awarding committee and I look forward to receiving many first-rate nominations once again.'
The worthy recipients will receive their medal during a ceremony at Trinity House later this year. The Princess Royal, Master of Trinity House, has presented the awards in previous years, with over 104 medals given out since 2015.
Nominations need to be summitted by the end of May 2022, and all the guidance and forms can be found here.
The worthy recipients will be announced on Merchant Navy Day, 3 September 2022.
---
Tags