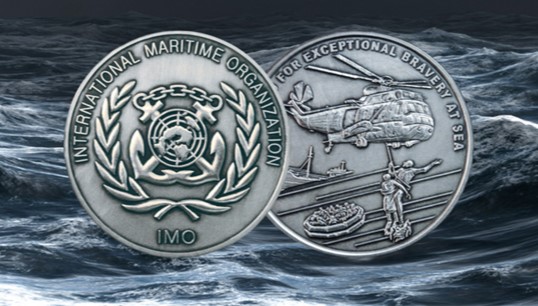 Nominations are now open for the International Maritime Organization's annual award for Exceptional Bravery at Sea.
Nautilus members who would like to make a nomination should please get in touch with the Union via enquiries@nautilusint.org
The award provides international recognition of individuals or groups of individuals who, at risk to their own life, perform acts of exceptional bravery in attempting to save life at sea or in attempting to prevent or mitigate damage to the marine environment. Nominations may also involve displays of extraordinary seamanship skills in very difficult conditions or any other acts of outstanding courage at sea.
Last year's winner, Mr Tran Van Khoi, a search and rescue officer from Vietnam, received the award after repeatedly risking his own life to save 12 people trapped onboard the sunken cargo vessel Vietship 01.
The act of bravery recognised in the 2022 awards must have occurred in the period from 1 March 2021 to 28 February 2022.
Nominations for the 2022 awards must be sent to the IMO no later than 15 April 2022.
Services to seafarers welfare award for exceptional maritime support in 34th year
Nominations are also open for the annual award for Services to Seafarers' Welfare, founded in 1988 by the Merchant Navy Welfare Board (MNWB).
The prestigious award is given for exceptional service to the welfare of seafarers or fishers.
Nominees can be either salaried personnel or volunteers in the maritime charity sector and should have a history of making a positive and proactive contribution to the welfare of seafarers over a long period of time.
Stuart Rivers, chief executive of the MNWB – the umbrella charity for the Merchant Navy and fishing fleets – said: 'This is a fantastic award which, since it was established 34 years ago, has been awarded to so many worthy recipients. These have been very challenging times and we know many people in the maritime welfare sector have gone above and beyond what is usually expected.
'With that in mind, I'd strongly urge you to submit your nominations so we can help to recognise the amazing and exceptional work that is being done to support to seafarers and fishers.'
Nominations for the award should be made here by the closing date of 29 July 2022. The award will be announced on World Maritime Day – 29 September 2022.
The MNWB requests that nominators do not inform a nominee of his or her nomination.
Nominate
---
Tags