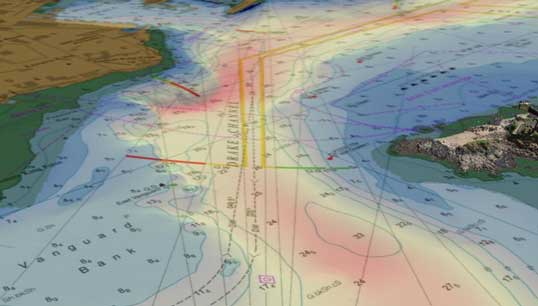 A new UK maritime security strategy has been published, setting out how the country will attempt to enhance its capabilities in technology, innovation, and cyber security.
The five-year strategy will officially recognise environmental damage as a new emerging threat to maritime security, and also addresses modern issues such as illegal fishing and polluting practices.
Secretary of State for Transport Grant Shapps said: 'Mankind has better maps of the surface of the moon and Mars than of our own ocean. To ensure the UK's maritime security is based on informed and evidence-based decisions, we must build our knowledge of this dynamic ocean frontier.
'Our new maritime security strategy paves the way for both government and industry to provide the support needed to tackle new and emerging threats and further cement the UK's position as a world leader in maritime security.'
The new strategy redefines maritime security as upholding laws – including a commitment to the United Nations Convention on the Law of the Sea (UNCLOS) – regulations, and norms to deliver a free, fair, and open maritime domain.
The government's new approach recognises any Illegal, unreported and unregulated (IUU) fishing and environmental damage to our seas as a maritime security concern.
A UK Centre for Seabed Mapping (UK CSM), to be administered by the UK Hydrographic Office, has also been established to enable the UK's seabed mapping sector to collaborate to collect more and better-quality seabed mapping data.
Seabed mapping provides the foundation dataset that underpins almost every sector in the maritime domain, including maritime trade, environmental and resource management, shipping operations, and national security and infrastructure within the industry.
UK Chamber of Shipping CEO Sarah Treseder said: 'A proactive maritime security strategy is essential to keeping trade routes and energy supplies secure, especially for an island nation.'
Co-Director of the SafeSeas Network and professor of international security at the University of Bristol Tim Edmunds said: 'The new NSMS comes at a critical time for the UK maritime sector. Maritime security is key to delivering the UK's ambitions in foreign, security and defence policy, as well as for blue economic growth and environmental sustainability.'
The government published its first National Strategy for Maritime Security in 2014. The UK strategy is underpinned by last year's publication of the Integrated Review – the government's vision for the UK's role in the world in the coming decade, and Maritime 2050 published in 2019.
---
Tags