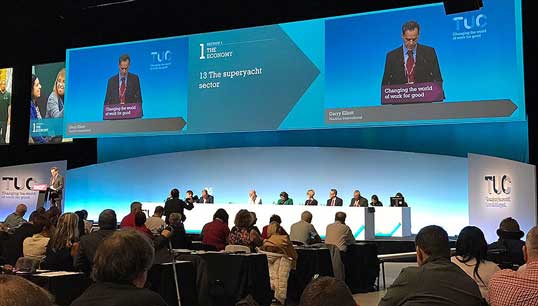 The annual gathering of trade unions affiliated to the TUC due to take place from 11-14 September at The Brighton Centre in Brighton has been postponed until 18-20 October as a mark of respect, while the UK mourns the passing of Her Late Majesty Queen Elizabeth II.
TUC Congress brings together the 48 member unions representing 5.5 million workers across the UK and is the TUC's primary democratic decision-making forum, debating motions and proposing actions that are needed for real change for working people.
Nautilus will put forward two motions for consideration by delegates from across the member unions. Our first motion is to support our 'Fair Ferries' campaign to reverse the race to the bottom in pay and conditions for seafarers turbo-charged by P&O Ferries.
The second motion, entitled 'Just Transition', outlines Nautilus's view that the shift towards decarbonisation in the maritime industry must have people at its heart, with quality employment and training opportunities. We will also be hosting a fringe event 'P&O Ferries Next Steps' to garner support amongst TUC delegates for our Fair Ferries campaign.
---
Tags