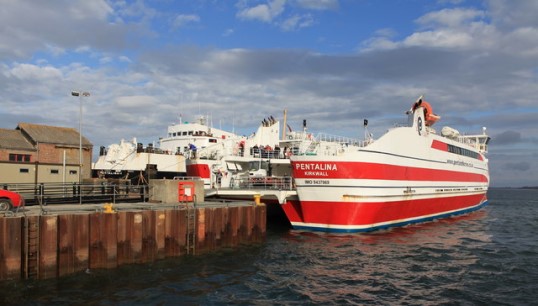 Nautilus International has requested an urgent meeting with Scottish Minister for Transport Graeme Dey MSP to discuss planned arrangements by CalMac Ferries to time charter the catamaran MV Pentalina.
The Union is concerned that CalMac's decision will install precarious employment practices on lifeline ferry routes that are subsidised by the Scottish government.
On 11 June, CalMac managing director Robbie Drummond informed Nautilus representatives Micky Smyth and Martyn Gray that berthing trials would be commencing with the Pentalina, potentially leading to a 12-month time charter arrangement in which Pentalina would operate in support of CalMac vessels on limited routes.
Pentalina would operate in the livery of Pentland Ferries and the crew would be employees of that company, with Pentland's terms and conditions of employment.
In a letter requesting a meeting with the Minister, Nautilus general secretary Mark Dickinson said: 'By time chartering Pentalina, Calmac will be responsible for engaging a vessel that sits outside our established agreements and risks installing precarious employment practices in support of lifeline ferry services. The Scottish government would be supporting a company that in our view operates anti-union and anti-social partnership employment practices and that has, on multiple occasions, legally challenged and questioned the very existence of CalMac and the public subsidy that lifeline ferry services receive.
'Nautilus maintains that the established rates of pay and conditions must be applied to all those undertaking work on CalMac routes on CalMac's behalf, irrespective of end employer or charter arrangement. A diminishment of the established standards is unacceptable and does not represent a sustainable increase in resilience of CalMac routes when it comes at the cost of quality sustainable employment.'
Mr Dickinson added that the Union strongly objects to the crew of the Pentalina being left as the 'poorer colleagues' to those ordinarily operating the services.
'We are keen to establish an extension that covers all officers operationally active on CalMac routes,' he said. 'I look forward to confirming a meeting soon to discuss these concerns.'
Nautilus will keep members serving with CalMac Ferries up to date with the situation.
---
Tags