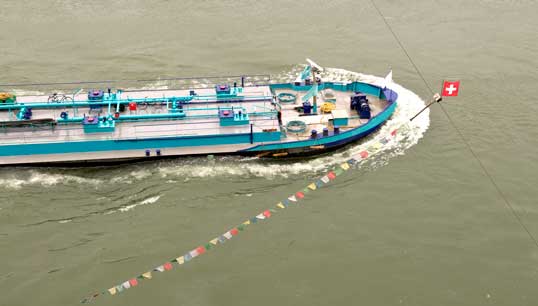 Nautilus has rejected attempts by the Swiss government to introduce legislation for commercial ships that would abandon flag requirements common across European Union (EU) states.
Switzerland is not an EU or European Economic Area (EEA) member but is part of the single market. A new 'Federal Act on the Tonnage Tax on Seagoing Ships' was introduced by the Swiss government on 5 April 2022 and now has to pass parliament. It proposes a maritime taxation system that does not tax profit, but rather the ship's own freight volume – a proposal which removes the most important instrument, the flag requirement, and in so doing disregards similar legislation customary in the EU, which has strict workers' rights and safety conditions.
The Swiss government says it wants to ensure 'a level playing field in international competition'. However, Nautilus Switzerland national organiser Holger Schatz said the Union believes this argument ignores the fact 'that strict conditions are attached to the granting of the tonnage tax, for example in the EU, which enables regulation in terms of worker protections, ecological concerns and safety issues'.
Mr Schatz said keeping the flag requirement in the Swiss bill – and all its associated conditions to protect workers and stop flagging out – would mean that 'a company wishing to benefit from tonnage taxation would not only have to be domiciled in Switzerland but would also have to place a large part of its fleet under the flag of Switzerland or an EU state. The EU uses this type of legislation to try to stop or even reverse further flagging out of ocean-going vessels to so-called "flags of convenience" or offshore flags such as the Bahamas, Liberia or the Marshall Islands.'
Instead, Switzerland also plans to do away with that requirement.
Nautilus International and the International Transport Workers' Federation (ITF) have been campaigning against this flagging practice for years.
The Swiss government, argues that ecological and social concerns are adequately taken into account because the bill stipulates that ships must be subject to a flag state that has ratified the various existing international maritime regulations.
'This is indeed the case for most offshore flags, but there is a great discrepancy between the formal recognition of international regulations such as the Maritime Labour Convention of 2006 and their implementation, said Mr Schatz.
'Our many years of experience, but also more recent incidents – of seafarers being kidnapped by pirates; the scapegoated imprisonment of seafarers on dubious legal charges in Nigeria; or the current fate of Ukrainian seafarers – all show how effectively seafarers under the Swiss flag are protected in a crisis. An important example is that of Swiss diplomacy. Under the Swiss flag, seafarers enjoy outstanding protection internationally, something which is generally not given under flags of convenience.
'There are usually no strong trade unions, no critical civil society, and it is questionable whether the competent flag-state authorities exercise their critical control authority or are ultimately only instruments of increased social dumping to attract shipping companies to register.'
Switzerland needs a 'real, sustainable maritime strategy, not quick fixes', he added.
'The abandonment of the flag requirement is all the more surprising given that the Swiss government announced as recently as February this year that it would develop a "holistic, comprehensive maritime strategy with the involvement of business, science and social partners". The bill on the tonnage tax now pre-empts this process and threatens to create conditions that would negate any efforts to achieve ecologically, socially and economically sustainable ocean shipping.'
---
Tags