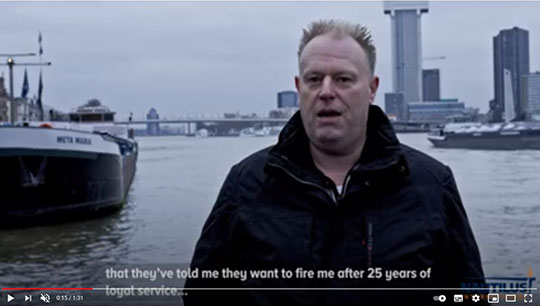 A new video produced by Nautilus highlights the impact of proposed forced redundancies and pay reductions on a group of Dutch seafarers.
The release of the video follows the presentation of a petition by the Union to Maersk management, which demanded that 24 Dutch seafarers at risk of being dismissed be offered alternative employment across the company.
The world's largest containership owner recently sold its five remaining ships which sail under the Dutch flag. Following the sale, Maersk announced that Dutch Captains and Chief Engineers could remain in service, but that another 24 Dutch seafarers on the fleet will be made redundant.
In response to the petition, Maersk stated that this group of workers could continue to be employed but would have to transfer to Danish employment conditions.
'That means that they will earn around 30% less and social protection is worse. That decline is too great,' said Nautilus senior national secretary Marcel van Dam.
The video features three nautilus members, speaking on behalf of their colleagues, and highlights the impact of the ongoing dispute on seafarers at the company.
Watch the video here.
---
Tags