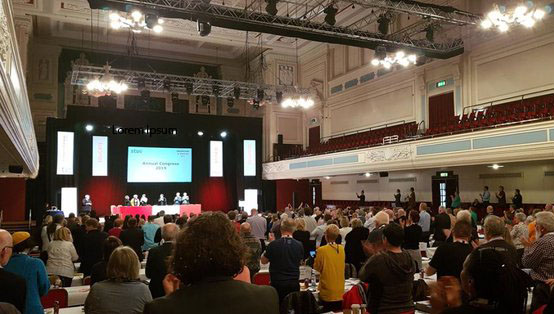 Nautilus has called for the Scottish government to establish a collective bargaining agreement for seafarers working on two freight ferries serving the Northern Isles.
The Union's national ferry organiser Micky Smyth moved a motion at the Scottish TUC annual conference seeking support for the long-running campaign to ensure crews of the Hellier and Hildasay are employed on the same terms and conditions as crews on the passenger vessels.
'It is not right that workers should be paid less than others doing the same job,' said Mr Smyth. 'Transport Scotland used the feeble excuse that it could not introduce a policy that would prevent companies bidding to operate the lifeline ferry services from employing crews on different terms and conditions.
'Now the goalposts have moved, as the vessels have been purchased by the Scottish government and the ships will join the Caledonian Maritime Assets Ltd (CMAL) fleet,' he pointed out. 'This follows the earlier purchase of the three passenger vessels, which now brings the entire fleet of NorthLink Ferries under Scottish government ownership.'
Congress unanimously backed the motion, which calls for the STUC general council to use 'all available political avenues to ensure that the seafarers on the freight vessels are afforded the same protection and terms and conditions of employment as their seafaring colleagues on the passenger vessels'.
Islands minister Paul Wheelhouse said buying the two freight ships will save the government money in the long-term. 'Our ferry services are iconic transport links that play a vital role for our island economies, so it's important that we secure the two freight ferries for the future.'
Mr Smyth is continuing to press for talks with companies bidding for the next contract, including German firm Förde Reederei Seetouristik, CalMac and current operator Serco NorthLink.
Follow this story
Industrial

Members at work
---
Tags