Campaigning
Nautilus calls for P&O Ferries boss to step down after he drops out of industry event due to union pressure
4 October 2022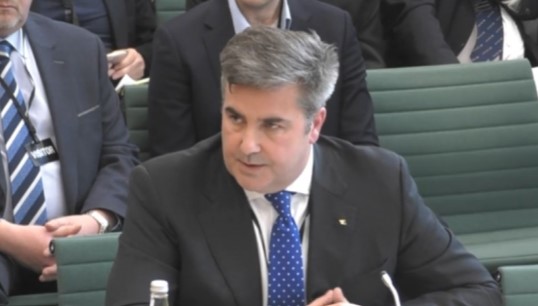 Nautilus International has welcomed news that disgraced P&O Ferries CEO Peter Hebblethwaite dropped out as a speaker at the Interferry conference in Seattle and called on the UK government to ensure he is forced to step down as boss of the ferry operator.
Following public pressure from the international labour movement and US government representatives, Interferry CEO Mike Corrigan announced that Mr Hebblethwaite was 'not able to participate at our conference'.
Nautilus International general secretary Mark Dickinson said: 'I was shocked to hear that Peter Hebblethwaite had been invited to speak on 'power and people' at the Interferry conference in Seattle despite his deplorable actions in March.
'As a result of campaigning by unions, Hebblethwaite dropped off the panel. He should also take this opportunity to step down as CEO, and if he fails to do that, we call on the UK Government to ensure he is forced to step down.'
Nautilus has called for the UK government to make regulatory changes to prevent another P&O Ferries-style jobs massacre under the union's Fair Ferries Framework strategy.
Mr Hebblethwaite was scheduled to appear at the 46th Interferry Conference in Seattle on Monday 3 October.
In a letter to Interferry, chair of the US House Committee on Transportation and Infrastructure, Peter De Fazio, called for Hebblethwaite to be removed as a panellist writing: 'Hebblethwaite's potential appearance "puts a stain on the reputation of Interferry's conference. Employers like that have no place at an Interferry conference, let alone one that is co-hosted by the Washington State Ferries and takes place in the United States."
He added that inviting the CEO to speak on its Power and People panel was 'an insult to all seafarers'.
P&O Ferries fired 786 seafarers in March on a pre-recorded Zoom call, a breach of UK laws on consultation and notification. Mr Hebblethwaite admitted to breaking the law when questioned by MPs, saying that he would do it again.
He is also still under investigation by the United Kingdom's Insolvency Service for potential civil violations and could yet face legal action.
Meanwhile the public is urged to take action now to ensure P&O Ferries' actions are never repeated:
---
Tags