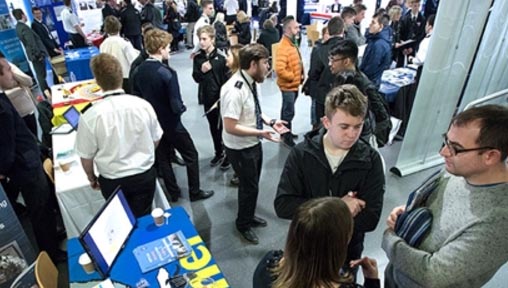 Nautilus has welcomed the launch of a new Merchant Navy Training Board (MNTB) scheme to pilot 'industrial placements' for UK cadets in an effort to combat challenges in getting seatime.
The new arrangements are initially being trialled by final phase engineer cadets in in partnership with the Royal Navy, Chiltern Maritime, Trinity House and the UK Maritime & Coastguard Agency.
The first six-week placements have been offered to cadets on charity training programmes who are not sponsored by companies with ships with training berths, and there are plans to extend the scheme to deck cadets at a later date.
MNTB director Kathryn Neilson commented: 'Securing quality training berths for cadets has always been a challenge, especially for charity cadets. Whilst offering quality sea time, we are also addressing the berthing shortfall and we need to get better at thinking outside the box.'
She said feedback from the first seven 'industrial placement' cadets had been very positive and they had gained some vital experience. 'When cadets are onboard the Royal Navy vessels in a dry-dock scenario, they are exposed to new machinery, different procedures and protocols and new routines, which makes for a more well-rounded, comprehensive training experience,' she added.
Nautilus professional and technical officer David Appleton added: 'This is a positive development and something that we have been seeking for some time. If the industry is going to hit the targets of increased cadet intakes that have been promised in return for SMarT Plus, we certainly need to open up new opportunities for trainees to get their practical experience and seatime.'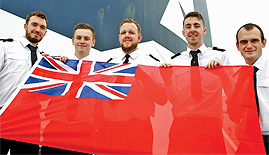 DFDS apprenticeships hit 'Top 20' mark
Five apprentice ratings are pictured onboard the DFDS ferry Dunkerque Seaways celebrating the end of their training last month. A total of 20 apprentices – 17 deck and three engineering – have now passed through the scheme since its launch in 2012.
---
Tags