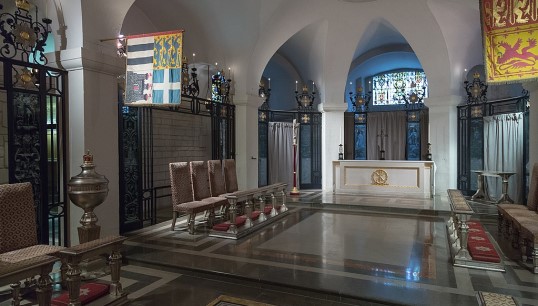 Several maritime professionals have been named in the Queen's Birthday Honours List this year, including a number recognised for their work during the Covid-19 crisis.
Honours are normally bestowed at New Year and on the monarch's official birthday in June but was delayed until October in order to give extra attention to Covid-19 key workers. Among the 1,495 honours handed out this year were accolades for hundreds of doctors, nurses, fundraisers and volunteers who have contributed to the UK's coronavirus response.
Five members of the Sea Cadets were honoured for their work during the crisis by being named an Officer of the Order of the British Empire (OBE), a Member of the Order of the British Empire (MBE), or by receiving the Medal of the Order of the British Empire. Port keyworker Stephen Williams was also given an MBE for services to shipping during Covid-19.
Further awards were given to eight people who have made important contributions to the work of the Royal National Lifeboat Institution, while others were honoured for services to the industry, to maritime heritage, or to charities including the Queen Victoria Seamen's Rest.
This year's recipients are:
Suzanne Nicola Sweeney. Network lead, London Neonatal Network and area chair, Sea Cadets. For services to neonatal provision in the NHS and to the Sea Cadets particularly during Covid-19
Instructor, Sea Cadets. For services to the community in Scarborough, North Yorkshire during Covid-19
Gemma Patricia McDonald. Nurse and volunteer, Newport Sea Cadets. For services to the NHS and to the community in Newport during Covid-19
Toni Ann Salmon. Food delivery driver and commanding officer, Forest of Dean Sea Cadets. For services to the community in the Forest of Dean during Covid-19
Helen Elizabeth Stephens. Chair, North West Area, Sea Cadets. For voluntary service to young people
Stephen Williams. Port keyworker, Portico Shipping. For services to shipping during Covid-19
Grahaeme Henderson. For services to the international shipping industry
Alexander Campbell. Chief executive, Queen Victoria Seamen's Rest. For services to charity
Charles Graham Hammond. For services to the UK ports industry and business in Scotland
George Michael Rawlinson. Chair, National Water Safety Forum and lately operations and safety director, Royal National Lifeboat Institution. For services to maritime safety
Alexander Stewart Auld. For services to the Royal National Lifeboat Institution and the community in North Berwick
Geoffrey Cowan. Community safety officer, Cullercoats Lifeboat Station. For voluntary service to the Royal National Lifeboat Institution
Robert Alan Forrester. Lately lifeboat operations manager, Flint Lifeboat Station. For voluntary and charitable services to the Royal National Lifeboat Institution in North East Wales
Donna Fundraiser, Scarborough Lifeboat Station. For charitable services to the Royal National Lifeboat Institution
Helen Mary McHugh. Honorary events and welfare adviser, Royal National Lifeboat Institution. For services to retired staff
John Stobbart. Coxswain, Royal National Lifeboat Institution, Workington, Cumbria. For voluntary service to maritime safety
Audrey For services to the Royal National Lifeboat Institution in North East Scotland
The full Honours List can be found at www.gov.uk/government/collections/birthday-honours-lists-2020
---
Tags