Law
Landmark Libra ruling finds negligent passage planning can render a ship unseaworthy
7 December 2021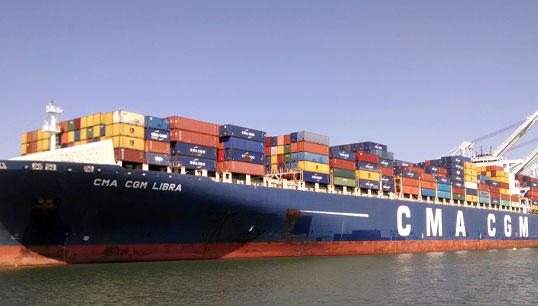 A long-awaited UK Supreme Court judgment has ruled that negligent passage planning by the master and officers can render a ship unseaworthy.
The verdict follows an appeal by the owners of the containership CMA GCM Libra against the UK Court of Appeal's decision to uphold an earlier ruling about responsibility for the grounding of the vessel in May 2011.
The case had gone to court because of a dispute between the owners and some of the cargo interests over the US$9.5m salvage costs. The cargo interests claimed they were not responsible because the owners had failed to exercise due diligence to ensure the ship was seaworthy, while the owners said they were not liable because Hague-Visby rules exempt them from the consequences of negligent navigational decisions by seafarers.
The owners also contended that because the ship was equipped with everything necessary for safe navigation – including a competent crew – the crew's failure to safely navigate the vessel did not amount to a lack of due diligence by the carrier.
The accident occurred after the Maltese-flagged ship left a buoyed fairway soon after departing for Hong Kong. The 131,332gt vessel ran aground on a shallow area which – although uncharted – had been the subject of recent notices to mariners warning that many of the depths shown on the chart outside the fairway were unreliable and that the waters were shallower than noted on the charts.
The Supreme Court upheld the original ruling that the defects in the vessel's passage plan and the relevant working chart had rendered the vessel unseaworthy. Judges noted that while the passage plan had not referred to the ship leaving the fairway, it also made no reference to the warnings concerning depths being less than shown on charts, and no areas in the plan had been marked as 'no go' areas.
The 47-page judgment held that the passage plan had not been prepared in a 'prudent' way and it was defective because 'a source of danger when leaving Xiamen had not been clearly marked as it ought to have been'.
The master's decision to leave the fairway had been negligent, the judges agreed, but it was unlikely that he would have made that decision if there had been a warning on the chart about charted depths being unreliable.
'The carrier is liable for a failure to exercise due diligence by the master and deck officers of his vessel in the preparation of a passage plan for the vessel's voyage,' the judges argued.
---
Tags