International
ITF wins freedom for hunger-striking seafarers after two years trapped at sea
17 June 2021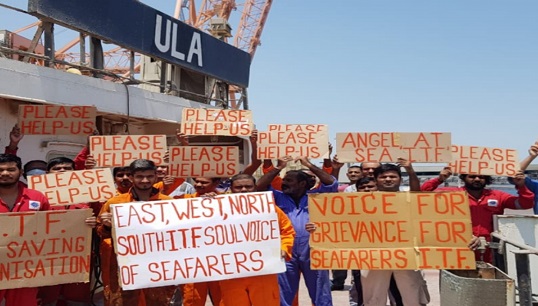 19 seafarers serving on the MV ULA can return home this week after the two-year advocacy work of the International Transport Workers' Federation (ITF) brought their ordeal to an end.
The seafarers were left abandoned as part of a larger crew of 25 when the ULA's owner Aswan Trading and Contracting stopped paying their wages and providing food, fuel, and water in 2019.
The problems for the crew began when they were abandoned off the coast of Iran. One seafarer said: '25 crew on board became sick due to [a] lack of medication, fresh drinking water, and food. At times we only had enough provisions for one meal a day.'
Coordinator for ITF Arab World and Iran Network Mohamed Arrachedi tried to get some of the crew's wages paid. The coordinator's action succeeded in getting owner Aswan to come forward with some of the pay owed in late 2019.
When the pandemic hit in 2020, the ITF insisted that the vessel be admitted to the port at Shuaiba, Kuwait in April 2020. Covid restrictions prevented the crew from coming ashore, despite spending months contained onboard.
Wage payments stopped for a third time and growing frustrations from crew led to the master reporting a mutiny. Four seafarers were locked in their cabins as a result. In October 2020, with Covid restrictions eased and frustration over lack of pay mounting, six seafarers disembarked and flew home.
Palau, the flag state that the vessel was registered under, was fully informed of the situation. Under the Maritime Labour Convention (MLC) a vessel's flag state has clear obligations to ensure that the crew are repatriated at the end of their contracts and should step in if the shipowner fails to do so or if the crew are abandoned.
However, rather than fulfilling this obligation Palau instead cut the ULA from its register.
After a year trapped onboard, the crew began a hunger strike in January 2021. Kuwait were unable to pay the crew's owed wages because that would require the sale of the vessel, which could take years, but the country was willing to help the seafarers return home.
In early June, Mr Arrachedi received word from the Kuwaiti authorities that the crew, some having been onboard as long as 31 months, would be returning home.
---
Tags