Environment
IMarEST launches Resilient Ocean Film highlighting the importance of ocean preservation
28 October 2021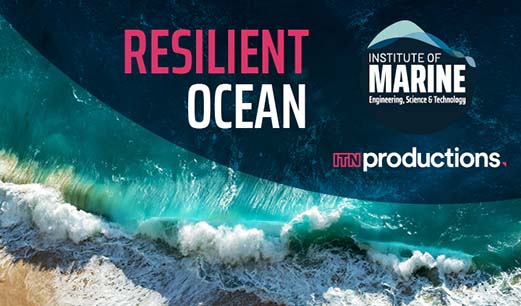 Ahead of COP26, the Institute of Marine Engineering, Science and Technology (IMarEST) have released a short programme of films titled Resilient Ocean to highlight the importance of preserving the future health and resilience of our ocean resources through scientific advances.
An exclusive showcase version of the film was livestreamed from IMarEST's YouTube channel on Wednesday 26 October 2021, alongside an in-person launch at the Oceans of Knowledge Conference at the Institute of Physics, London. It provides an overview of the Resilient Ocean programme in a series of short videos including interviews with marine biologists, the work of Trinity House in safeguarding the British coastline, and Plymouth Marine Laboratories.
The film series emphasises the importance of ocean health on the environment and global economy, through interviews with marine experts on the environmental impact of climate change, and maritime organisations the importance of seafarers calling on governments to step up and support them.
IMarEST emphasises the importance of Trinity House in safeguarding seafarers and sustaining our shores. The organisation is featured in the film for their commitment to greener shipping and their opportunities for cadet training to ensure the next generation can help prevent environmental and navigational disasters at sea.
Commodore Rob Dorey, director of operations at Trinity House, said in the film: 'It is now our policy that we will continue to roll out LED lights, solar power, wherever we can, remove our dependency on diesel and burning fossil fuels.'
The final video in the Resilient Ocean programme features BIMCO's 'Seafarers Deserve Support' video highlighting the importance of seafarers in society calling on governments to recognise this and acknowledge seafarers as key workers.
Gwynne Lewis, CEO of IMarEST said, 'We are excited to launch Resilient Ocean at our Oceans of Knowledge conference and in the lead up to COP26. The film is a great way to demonstrate the important role our oceans play in our daily lives and the professionalism of those working in marine careers. It is vital we continue to advance the understanding and practice of marine engineering, science and technology while promoting environmental sustainability for the benefit of mankind.'
You can watch the showcase version of the film and the individual programme clips can be found on the IMarEST YouTube channel.
---
Tags