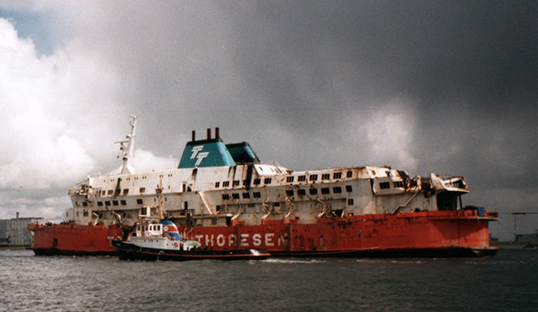 The anniversary of the Herald of Free Enterprise disaster on 6 March 1987 is marked each year in Dover with a service of remembrance for those who perished.
This year, pandemic restrictions made it impossible to hold the service in a church, but the importance of the occasion to local people and the wider maritime community meant that alternative arrangements were made, and the service was broadcast to the congregation via Zoom.
The service was organised by the maritime welfare charity Sailors' Society, whose then Dover chaplain Bill McCrea supported families after the disaster and conducted funerals for four of the crew members.
The families wishing to attend online this year were sent the Zoom link in advance, along with a prayer written for commemorations. The broadcast came from St Mary the Virgin Church in Dover.
David Slater of the Port of Dover Chaplaincy led the act of remembrance, and all 193 names of those who died were read out. Chaplains prayed afterwards on the seafront.
Nautilus general secretary Mark Dickinson commented: 'We remember our members and all those who suffered that night 34 years ago. We have never lost sight of the failings that led to that tragic event and have worked tirelessly to ensure the highest levels of safety at sea and in the ferry sector in particular. In this way we seek to ensure that the loss of life, and the ongoing suffering of those who witnessed those events, was not in vain and is never forgotten.'
Nautilus is always represented at the annual service, and the Union's head of industrial Micky Smyth joined online this year.
'I normally represent the Union at the annual service at St. Mary's Church in Dover in person,' Mr Smyth said. 'I viewed the service this year digitally and you could still feel the sadness when hearing the readings and in particular when the names of all those lost were read out.
'We also remember the brave rescue services who rushed to the ship's aid and the many people who lost loved ones on that fateful evening of Friday, 6 March 1987. We will never ever forget those who were lost on the Herald of Free Enterprise.'
---
Tags