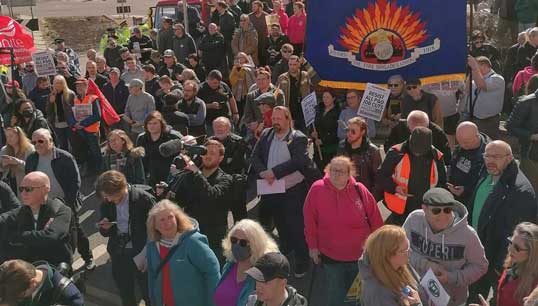 French trade unions have shown their support for Nautilus International and its partners in their work to undo the damage from the P&O Ferries crisis, as meetings kick off with the UK government and shipowners on Thursday.
The discussions will centre on plans announced by Secretary of State for Transport Grant Shapps to development and implement minimum wage corridors between UK ports and between the UK and ports on the continent to prevent companies like P&O Ferries from paying rock-bottom wages to workers.
Thierry Le Guevel of UFM/CFDT/FGTE; Laurent Le Floch of FEETS-FO; Jean-Philippe Chateil of FOMM UGICT CGT; and Pierrick Samson of CGT FNSM sent an uncompromising message of solidarity to Nautilus and the RMT.
'We are writing to express our support and solidarity with you and your members who have come together to work towards an end to unfair and destructive competition,' they wrote.
'We further understand that you are together developing a Fair Ferries Framework Agreement. We welcome and support the current dialogues taking place to put forward such a fair agreement and look forward to continuing our cooperation with you to eradicate destructive competition in European ferry sector and on the UK/French routes in particular.'
The Fair Ferries framework agreement is aimed at establishing the minimum conditions for individual Collective Bargaining Agreements between companies and unions, covering working conditions, compensation, training, tour duration and route-specific requirements.
---
Tags