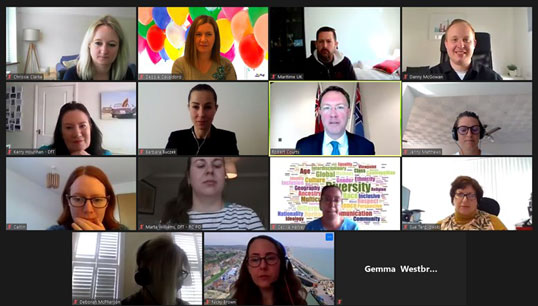 Nautilus has urged more maritime organisations to commit to a diverse workforce during a virtual event commemorating the first anniversary of the Maritime UK Diversity in Maritime Programme. The event celebrated the programme's achievements during a year blighted by the Covid-19 pandemic.
UK Maritime Minister Robert Courts, who also attended the online event, reiterated his 'huge pride in the maritime workforce' and praised the 'fantastic breadth of initiatives' from the Diversity in Maritime Programme projects to help build a more diverse sector.
'Our maritime sector has been a critical force in keeping this country moving during the pandemic, and as we Build Back Better and focus on our recovery, I am committed to ensuring that our work on diversity and equality is at the heart of all we do,' said Mr Courts.
'The Diversity in Maritime Taskforce rightly shines a spotlight on the excellent work done so far and how we can all create the space to build a balanced, diverse sector.'
Debbie Cavaldoro, Nautilus head of strategy and policy and co-chair of the Diversity in Maritime Taskforce, commented: 'Diversity and inclusion is critical to business and is the bedrock of success. When people are allowed to achieve their potential in their role, regardless of race, religion, gender or sexual orientation, everyone benefits, and everyone can share in the success – and ultimately the business performs better.
'Our Pledge signatories and Charter organisations are leading the way with helping move equality forward in maritime. We call upon more organisations to get involved with our programme and help us ensure that everyone has a seat at the table.'
The meeting also saw the launch of a new Conference and Events Pledge which calls for conference panels and events to be diverse and inclusive, and calls on signatories to 'call out' events that are not. It was launched in recognition of a significant absence of women at public professional forums, particularly within the UK maritime sector. The lack of visible representation means that less women choose to speak at events, and less are chosen to speak. The Speaker Bank was also relaunched to assist pledge signatories to fulfil this commitment, by providing a portfolio of women speakers to talk on a range of equality, diversity, and inclusion topics from across the UK maritime sector.
The Diversity in Maritime Programme includes four safe-space networks: Women in Maritime; Mental Health in Maritime; Pride in Maritime; and Ethnicity in Maritime. These networks bring together individuals and allies from across the sector to collaborate, discuss and break down barriers being faced by maritime professionals.
The programme also shared its first Diversity in Maritime Annual report, which highlights the work of its networks in supporting diversity and inclusion in mental health, LGBT+ and ethnicity in maritime such as the Ethnicity in Maritime Book Club and toolkits for mental health and diversity. During the pandemic the programme also hosted a series of webinars covering unconscious bias awareness; public speaking in a virtual environment; mental health and wellbeing; talking about race at work; and how to make maritime welcoming for the LGBT+ community. These webinars drew over 1000 participants from across the sector The programme also welcomed its first sponsor, the Aberdeen Harbour Board, heard from the working groups that support the networks, and called for more organisations to take advantage of its Interview Pool volunteers, who support gender balance in recruitment.
Diversity in Maritime aims to promote a fair, equal, and inclusive UK maritime sector that embraces diversity and creates a supportive and open environment for all to be able to achieve their potential. The programme also works closely with the Maritime Skills Commission to ensure the sector has a continuous pipeline of highly skilled people from diverse backgrounds and experiences to support the vision for the sector as set out in the Maritime 2050 Strategy.
---
Tags