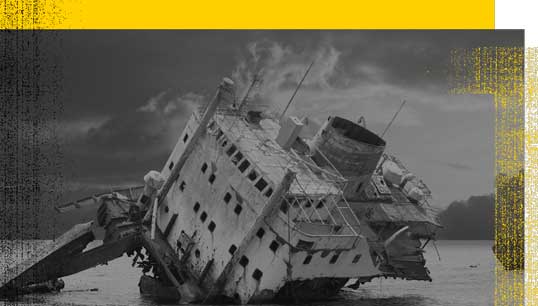 Seafarer safety is being jeopardised by the relaxation of international maritime rules during the pandemic, the International Transport Workers' Federation (ITF) has warned.
A new report by the ITF's Maritime Safety Committee 'Beyond the Limit: How Covid-19 corner-cutting places too much risk in the international shipping system' found that if temporary short cuts adopted in the industry during the Covid-19 pandemic continue, or become permanent, there will be a rise in shipping accidents and environmental disasters.
'Short cuts taken with the blessing of some flag states, have gone too far, for too long,' report co-author and chair of the Maritime Safety Committee Odd Rune Malterud said. 'Of greatest concern is that these short cuts risk becoming permanent.'
The practice of flag states 'rubber-stamping' crewing levels without due regard to safety, has become 'unacceptably dangerous' in recent months, as shipowners have 'pushed for lower and lower manning levels in the face of the crew change crisis,' Mr Malterud said.
'These companies save money in wages and recruitment, but the risk for the crew, cargo and the environment increase substantially.
'This corner-cutting increases pressure on seafarers, harming their mental and physical wellbeing, their lives. Reduced minimum manning intensifies stress onboard and contributes to fatigue because it spreads the same workload across a smaller number of seafarers.'
The ITF report also noted the lack of familiarisation procedures taking place for new sign-on crew due to reduced crewing, as well as the premature promotion of seafarers.
The 'creep' of work into the hours of rest and relaxation was flagged. 'It is inhumane and dangerous to human life and our marine environment to force seafarers to continue to work the maximum number of hours of work every day, seven days a week while taking only the bare minimum hours of rest provided in regulations.'
Shipowners must ensure the provision of appropriate rest, relaxation and exercise facilities and activities, internet and communications access, and appropriate advocacy to port states and others for shore leave for their crew.
'We say enough is enough: if ships are not properly manned and seafarers are unable to be replaced, then the ship's operations must be significantly reduced to consider the situation. Employers cannot continue to shift more and more work onto fewer and fewer crew members and regulators cannot pretend this is not happening under their noses.
'We need to return to proper implementation and enforcement of these rules by flag states and port state control authorities for the benefit of everyone,' ITF said.
Work and rest research
The ITF Beyond the Limit report also draws on recent World Maritime University research, soon to be published, into the implementation of the current framework on work and rest, which highlights similar widespread malpractices and points to insufficient safe manning levels being the root cause of violations and recording malpractices
It recommends some short-term improvements such as ensuring the Flag State surveyors and PSCOs are better trained on the rest and work elements
Seafarers are also encouraged to continue to use existing reporting procedures, and if they fear victimisation, they should report to any confidential reporting organisations such as CHIRP
Nautilus also would encourage members to report to their union representatives any breaches of employment conditions
The Union has previously taken part in European Commision-funded research on the effects of fatigue which provided a wake-up call to the industry. It was part of the Project Horizon campaign – a multi-partner research initiative to investigate the impact of watchkeeping patterns on the cognitive performance of seafarers.
---
Tags