Nautilus news
Cornwall Marine Academy wins Nautilus-sponsored Future Skills category at Maritime UK Awards
17 October 2019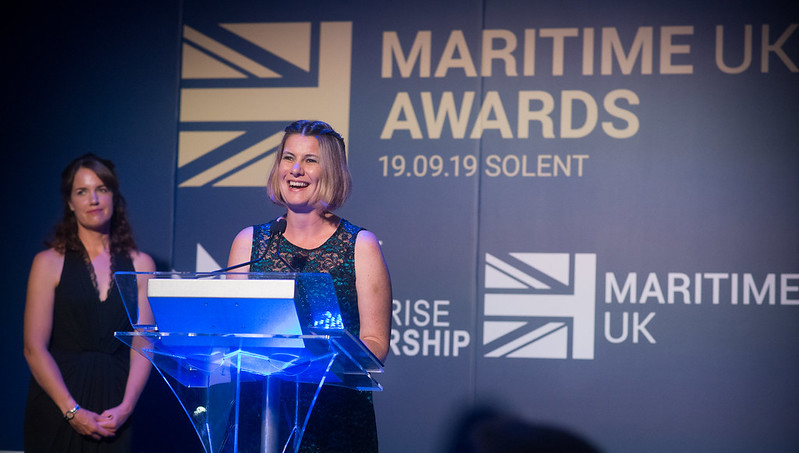 Cornwall Marine Academy (CMA) won the Nautilus-sponsored Future Skills Award at the first ever Maritime UK Awards ceremony at Southampton's Leonardo Royal Hotel on Thursday 19 September.
The Falmouth-based CMA, which has delivered careers advice to more than 35,000 young people since it was started in 2008, beat two other finalists in the category: The Nautical Institute and Orka Informatics.
Shipping Minister Nusrat Ghani MP presented the CMA's award to Paul Wickes MBE CEO, Aurelie Nollet CMA Director and Dave Wickes CMA Team Leader.

The Future Skills Award recognises those that have made a tangible contribution to meeting the future skills needs of the sector, across education, training or apprenticeship development.
Nautilus International's head of strategy Debbie Cavaldoro said: 'Congratulations to Cornwall Marine Academy for winning the award, sponsored by Nautilus International. As the Trade Union for Maritime professionals, Nautilus is dedicated to ensuring our members jobs and skills for the future, whatever those may be.'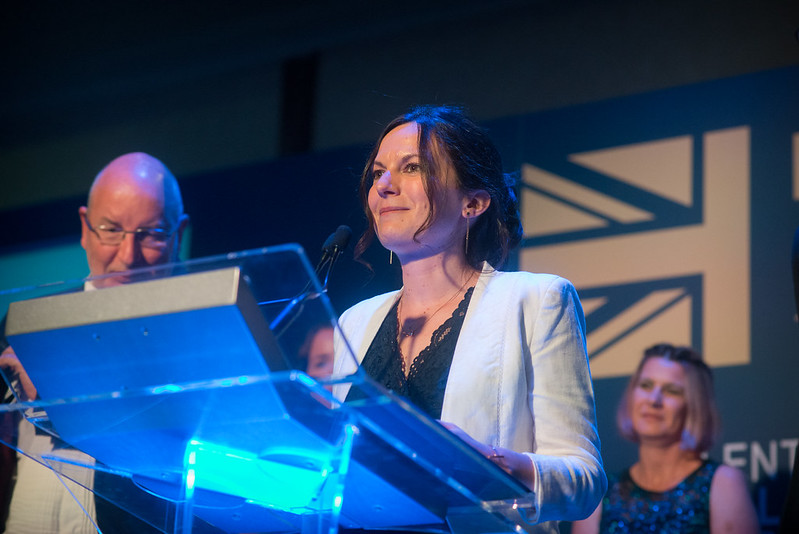 Mr Wickes said: 'Winning the inaugural Maritime UK Future Skills Award brings immense pride that we have showcased the best of Cornwall on the national stage and gained recognition for the dedicated hard work of our Academy team and the Ambassadors from our local marine business sector.'
The Maritime UK awards celebrate good practice in the UK maritime industry, from exemplary people-management to innovation.
Experts from a variety of organisations and UK government departments made up the judging panel for the 12 awards, with categories including diversity, STEM, sustainability, and start-up of the year.
Cornwall Marine Network created the CMA to find solutions to problems reported by local marine employers when trying to employ young people for their future workforce. Employers identified insufficient employability skills, young people lacking awareness of career opportunities in the marine sector, a lack of any meaningful work experience and a poor work ethic.
CMA deploys a team of 95 voluntary Marine Ambassadors all from local businesses into Secondary Schools across Cornwall, offering careers advice and explaining what employers need from Young People.
Plymouth will host the event in 2020.
The full list of winners are:

Diversity Award sponsored by Red Funnel
Winner: Spinnaker Global

Innovation Award sponsored by UK Ship Register
Winner: Shakespeare Monofilament UK

STEM Award sponsored by DFDS
Winner: Seafarers UK & Sea Cadets

Sustainability Award sponsored by the Royal Navy
Winner: Port of Cromarty Firth

Coastal Powerhouse Award sponsored by Southampton Marine and Maritime Institute
Winner: Mersey Maritime

International Trade Award sponsored by Portsmouth International Port
Winner: Actisense

Employer of the Year Award sponsored by Stellamar
Winner: Hill Dickinson

Start-up of the Year Award sponsored by DONMAC DATA
Winner: ARC Marine

Future Skills Award sponsored by Nautilus International
Winner: Cornwall Marine Academy

Rising Star Award sponsored by Western Union
Winner: Elsie Vrolijk, Royal HaskoningDHV

Business of the Year Award sponsored by PwC
Winner: Ribeye Boats

2050 Award sponsored by the Department for Transport
Winner: Red Funnel

Maritime UK Fellowship Award
Winner: David Dingle
---
Tags